Lettenbichler Leads WESS Charge To Hixpania Hard Enduro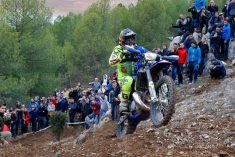 Wels, Austria – 18 June, 2019 — The fourth round of the World Enduro Super Series heads to Spain's Hixpania Hard Enduro this coming weekend with Manuel Lettenbichler (KTM – GER) holding the championship lead.
After three rounds of action-packed Enduro racing, the 2019 WESS championship visits new terrain as Hixpania Hard Enduro joins the series for the first time.
A three-day event, the race in the north of the country is set to attract the world's best Enduro riders as WESS reaches the halfway stage in the season.
Lettenbichler Determined To Take Debut WESS Win
Leading the battle in this year's race to become the ULTIMATE ENDURO CHAMPION, Germany's Manuel Lettenbichler (KTM) is the third rider to sit at the top of the standings so far in 2019. The German has been a model of consistency, claiming podium results at rounds one and three while also taking a top-15 result at the Trèfle Lozérien AMV Classic Enduro. However, the 21-year-old privateer is hungry for a win and will no doubt be aiming for nothing less than the top step of the podium in Spain.
Sitting second overall in the championship chase, Sherco Factory Racing's Mario Roman (ESP) is one rider determined to put a stop to Lettenbichler's charge. Victor of round one, Roman has been on flying form in the series' Hard Enduro races, also claiming a podium result at the Erzbergrodeo Red Bull Hare Scramble. Winner of the Hixpania Hard Enduro in 2018, the Spaniard will be spurred on by a wealth of home support.
As the series' most recent winner, following his memorable Erzbergrodeo Red Bull Hare Scramble victory, Rockstar Energy Husqvarna Factory Racing's Graham Jarvis moves to third overall in the standings, just 270 points behind Lettenbichler. The British rider won the Hixpania Hard Enduro outright in 2017, while also winning the final day of competition in 2018. With the taste of victory still sweet in his mouth, Jarvis is eager to add more silverware to his trophy cabinet.
Home Support For Garcia & Gomez
Just 25 points behind Jarvis in fourth overall, Red Bull KTM Factory Racing's Josep Garcia is determined to show his best at his home round. Despite favouring the Classic Enduro races, Spaniard Garcia has held his own in 2019. With the Hixpania Hard Enduro format expected to be more favourable to his skill set, Garcia should deliver a memorable result.
The inaugural winner of Hixpania Hard Enduro, Alfredo Gomez (Husqvarna – ESP) is eyeing up his second visit to the top of the podium. The Spaniard thrives on home support and is focused on making up for disappointing rounds one and two.
Chasing A First Podium Result of 2019
Yet to truly make their mark on the 2019 series, Jonny Walker (KTM – GB), Billy Bolt (Husqvarna – GB) and Taddy Blazusiak (KTM – POL) are all in close contention and will be fierce contenders for a winning result in Spain. With the championship reaching the halfway point and all three riders yet to visit the podium this year, they know that Spain will be a make or break event in bridging the gap to leader Lettenbichler.
Spain's Pol Tarres (Husqvarna) and South Africa's Travis Teasdale (KTM) are another duo to watch for. TTR Officine Rigamonti Team mounted Tarres will be strong and is keen to use his wealth of trials skills to his advantage. Eurotek KTM's Teasdale is coming in off the back of a 10th place ride at round three and, as a rider who's not afraid to get in the mix, could prove a dark horse in the battle for a top-five result.
What To Expect At Hixpania Hard Enduro
For 2019, the race moves from its original autumn schedule to become a summer race. But like previous years, the format of the race itself will remain unchanged. Staged over three days, the opening day of competition will feature a Superenduro-style prologue in the heart of the Aguilar de Campoo's medieval town.
On day two 'Campoo Extreme' will take riders out on a challenging Cross-Country loop of 50 kilometres in length around the nearby lake, which competitors will complete three times. Bringing proceedings to a close, the third and final day of competition known as Lost Roads will feature a multi-lap Hard Enduro race located in the nearby quarry.
The World Enduro Super Series continues with round four at Spain's Hixpania Hard Enduro on June 21-23.
Hixpania Hard Enduro Fast Facts
350: Competitors entered for fourth edition of Hixpania Hard Enduro
190: Manuel Lettenbichler holds a 190-point lead over Mario Roman
50: Length in kilometres of Saturday's Campoo X-treme course
3: Number of past winners of Hixpania Hard Enduro
2019 Hixpania Hard Enduro Schedule
June 20: Hixpania Village opens
June 21: SuperEncierro Prologue 17.00h – 20.30h
June 22: Campoo X-treme
June 23: MITAS El Camino Perdido 11.00h – 14.15h
Hixpania Village open throughout race weekend
2018 Hixpania Hard Enduro Podium
1. Mario Roman (Sherco) 2. Graham Jarvis (Husqvarna) 3. Alfredo Gomez (Husqvarna)
Hixpania Hard Enduro Past Winners
2018: Mario Roman (Sherco)
2017: Graham Jarvis (Husqvarna)
2016: Alfredo Gomez (KTM)
World Enduro Super Series Standings (after round 3 of 8)
1. Manuel Lettenbichler (KTM – GER) 1960 points
2. Mario Roman (Sherco – ESP) 1770 pts
3. Graham Jarvis (Husqvarna – GBR) 1690 pts
4. Josep Garcia (KTM – ESP) 1665 pts
5. Jonny Walker (KTM – GBR) 1520 pts
6. Billy Bolt (Husqvarna – GBR) 1465 pts
7. Alfredo Gomez (Husqvarna – ESP) 1464 pts
8. Wade Young (Sherco – RSA) 1460 pts
9. Taddy Blazusiak (KTM – POL) 1370 pts
10. Nathan Watson (KTM – GBR) 1271 pts