KNIGHT & REIS Finish the Job!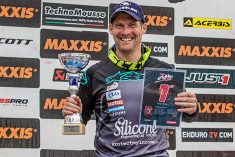 The Greece-Italy tour was a tough one! And even though the riders in the Champion Lubricants Enduro Open World Cup complete one lap fewer than the EnduroGP riders, they still suffered with the very technical tests and transfers, as well as from the scorching Greek heat and the Italian downpours. However, it didn't prevent David KNIGHT (GB – TM) and Gonçalo REIS (P – Gas Gas) from finishing the job!
Indeed, the triple World Champion from the Isle of Man became the first winner of the Open Senior World Cup! Something he did in Serres without too much trouble, 14 years after winning his first world title in the same place, and so he enters the history books of the newly-created Champion Lubricants Enduro Open World Cup. KNIGHTER subsequently extended his winning streak to 10 with two new victories in Italy. Behind him, Austria's Werner MÜLLER (KTM) should be the one to finish in second place, as he was the best rider behind KNIGHT during the four days of racing. Finally, Hans Peter MUSIL (AUT – KTM), Patrik ANDERSSON (S – Yamaha), Duccio GRAZIANI (I – Yamaha) and Andrea BELOTTI (I – KTM) had to share the honours of third place during the back-to-back tour.
RIEDEL Threatens ELLWOOD…
Over in the Open 2-Stroke class, Gonçalo REIS only needed three more wins to join KNIGHT in the history books. Undefeated since the first day in Portugal, the Gas Gas rider was able to raise the winner's plate on Saturday in Italy!
George PISIMANIS (GR – Yamaha) took 2nd place on both days in Serres, while Benet GOMEZ (E – Gas Gas) and Nico RAMBOW (D – KTM) traded 2nd and 3rd places at the Valli Bergamasche in Italy. Both these riders have had strong seasons so far, and their duel should remain close until the end of the Championship!
Finally, in Open 4-Stroke, it's still all to play for! Although Tom ELLWOOD (GB – Kawasaki) dominated the Iberian tour, it hasn't been enough for the Brit. After the Kawasaki rider missed the Greek round, it was Ioannis CHASAPIS (GR – KTM) and Mathias VAN HOOF (B – Beta) who benefitted. And Robert RIEDEL (D – KTM) had an answer for ELLWOOD in Italy. The last two Grand Prix should be very interesting, and they'll be a fierce fight to become the first winner of the Open 4-stroke Cup!
Behind these two riders, we must give a special mention to Pietro Enrico COLLOVIGH (I – Sherco), Konstantinos NIKIAS (GR – Husqvarna) and Panagiotis ZAFEIRIOU (GR – Suzuki) who all took podiums during the last two GPs in their respective home countries.
This Greece-Italy tour may well have confirmed the domination of REIS and KNIGHT, as they leave with Champion titles. But the last two weeks have also shown that Open 4-Stroke is still a very exciting class that could bring suspense and surprises right up until the final race in Ambert (France) in September…
What They Said:
David KNIGHT: "I am very happy to win this Open Senior Cup in the same place where I became World Enduro Champion for the very first time all those years ago. Without the Open World Cup, I would certainly never have come back to ride in EnduroGP and it's the perfect situation because we ride without pressure, without having to focus every day on what we eat and how we train. It's really a nice initiative!"
Gonçalo REIS: "I'm very happy to win this Open 2-Stroke Cup title here in Italy. But I must tell the truth, with the absence of Richard TUCKER at both GPs, I had almost already won the Cup before participating in the Italian round… Anyway, I'm really proud to have won this cup!"
Tom ELLWOOD: "RIEDEL was really very strong and I never managed to find my rhythm… In addition to that, I broke my foot peg off on Sunday and had to ride two tests with only one foot peg, so that cost me a lot! But I'll go home and work hard so I can win this Open 4-stroke Cup…"
Provisional Classification:
Open 2-stroke: 1. Gonçalo REIS 160pts; 2. Benet GOMEZ 86pts; 3. Richard TUCKER 63pts; 4. Nico RAMBOW 62pts; 5. Jorge PARADELO RODRIGUEZ 62pts…
Open 4-stroke: 1. Tom ELLWOOD 112pts; 2. Fraser FLOCKHART 92pts; 3. Robert RIEDEL 74pts; 4. Mathias VAN HOOF 70pts; 5. Rene SCHILLING 47pts…
Open Senior: 1. David KNIGHT 160pts; 2. Werner MÜLLER 102pts; 3. Andrea BELOTTI 99pts; 4. Patrik ANDERSSON 92pts; 5. Fernando FERREIRA 88pts…