Third round in Latvia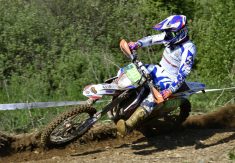 The European Enduro Championship will move to Latvia for the third round of the four competitions: the paddock and the administration will be located in the middle of Madona on the coming weekend of 29th and 30th of June 2019.
On Saturday and Sunday, the 100 riders from 14 nations will be sent out for the three laps from 8:00 a.m. onwards. There are around 180 km to be ridden daily and two different special stages to be completed in each lap. The Enduro test and the Crosstelst are not far apart, so that it will be easy for spectators and teams to follow the competition.
It won't be that easy for the riders, because in Madona regular international competitions, from the Enduro Sprint to the Baltic Enduro Cup, have been taking place for several years now. So that there is a lot of experience with challenging course management, but also with the organization of such events.
To set the mood for this international competition, an official opening ceremony will take place on Friday evening at 6:30 pm.
The Czech rider Kristof Kouble turned out to be the favourite. Behind him are Albin Elowson from Sweden and Roni Kytönen from Finland, who even won his junior class in the World Championship two weeks ago. This will provide excitement, as the top drivers in the championship and in the individual classes will of course all be at the starting line..
Find the livetiming in the internet: at http://www.casomeric.cz/enduroonline/
More information and schedules, results and links, there are always up to date and right on the official website: http://european-enduro.com/