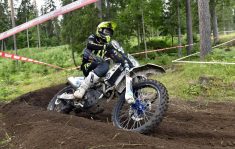 Juniors fight to the end
At the third round of the European Enduro Championship in Latvia the juniors
fought for the overall victory until the last special-test on the first
competition-day: Up to this tim the Finn Roni Kytönen was still back:
"Things didn't go so well in the very first test, but I almost caught up
until the end – I knew that I simply had to risk everything." – The
Husqvarna rider did as he said and even managed to take seven seconds off
championship leader Kristof Kouble. So finaly the Finn finally won the day.
"In the end, Roni was simply faster than me," Kouble admitted without envy,
but he still keeps his lead in the championship for a long time. Of course,
both riders also won their respective cubic capacity classes at the same
time: Kytönen the Junior class E1, and Kouble on the KTM the Junior class of
the more powerful E2 and E3 machines – ahead of the Brit Jed Etchells.
The next Finn, Eemil Pohjola, took third place in the overall standings, but
he was also able to win the big four-stroke class ahead of Albin Elowson
from Sweden.
Directly behind these two riders, the Swede Max Ahlin rode his brand new
125cc Husqvarna to fifth place in the overall standings and once again
clinched a victory in the class of the youngest riders with the small 125cc
motorcycles. Ahlin had just switched from KTM to Husqvarna the week before.
It also became highly international in the two-stroke class: Maurizio
Micheluz, an Italian, won the small-capacity category and Dennis Schröter, a
German, won the large-capacity category.
A total of seven different nations were represented in the top 14 of the
overall standings!
The organizer in Madona had proved its worth on this first day of riding: No
problems at all on the track or in the special stages, so that the second
day will be done according to the same schedule as this first day.
The award ceremony is scheduled for Sunday at 16:30 at the central square
place.
Find the livetiming for second daa in the internet:at;
http://www.casomeric.cz/enduroonline/
More information and schedules, results and links, there are always up to
date and right on the official website:
http://european-enduro.com/