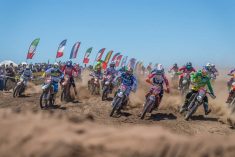 Even with over four months to go before the 94th edition of the FIM International Six Days of Enduro (ISDE) is set to take place in Portimao, Portugal from 11 to 16 November 2019, the pre-entry list is incredibly strong with over seven hundred and fifty riders confirmed already.
A total of twenty-six countries have registered teams in the three main trophy classes – those being World Trophy, Junior Trophy and Women's World Trophy. Australia top the list both alphabetically and in terms of defending titles, as they head to Portugal later this year as the current holders of both the World Trophy and Women's World Trophy prizes. Italy took home the Junior Trophy last year and will look to retain this honour when they arrive in Portimao in just over four-months' time.
Australia, Czech Republic, Germany, Great Britain, Norway, host country Portugal, Spain, Sweden and the USA are the nine nations who will have teams in all three main classes, whilst Belgium, Brazil, Canada, Finland, France, Ireland, Italy, and the Netherlands will have representation in two out of the three Trophy classes.
Alongside the one hundred and eighty riders flying the flag for their national federations, no less than four hundred and thirty-eight club riders will also take to the start line come early November. Spain currently lists twenty-two teams, with Italy a close second with a tally of twenty-one teams. Portugal and the Netherlands are next in terms of numbers along with Germany, Great Britain and France who will all have an exceptionally strong showing when the action gets underway in Portimao. More than twenty-five nations will field club riders at the 94th edition of the ISDE, as amateur riders again line up next to their professional counterparts in this historic competition.
The third running of the FIM Enduro Vintage Trophy has also proved to be highly popular with just shy of one hundred and fifty riders having already registered to do battle over a slightly shorter format on a range of motorcycles from yesteryear. The pre-entry list reveals competitors from eleven countries thus far with this number due to rise with other riders sat in the wings, waiting to confirm their places in the near future. Italy, France, Germany and Great Britain are currently the dominant representatives in the 2019 FIM Enduro Vintage Trophy.
The final entry phase will close on 30 September, after which date a full entry list will be published in due course. In the meantime, keep up to date with all the latest ISDE news by visiting this official event website.
Naschrift: de tekst over Nederland in dit bericht is niet juist. De KNMV schreef eerder dat er geen Trophy of Junior Team wordt afgevaardigd. Wel twee KNMV clubteams.