Taddy Blazusiak Takes Early Lead At Red Bull Romaniacs
Sibiu, Romania – 30 July, 2019 — Taddy Blazusiak got off to a flying start at round five of the World Enduro Super Series by claiming the Red Bull Romaniacs Prologue win.
The Red Bull KTM Factory Racing star led home a strong field of Gold Class riders to take victory on the streets of Sibiu. He was joined on the podium by teammate Jonny Walker (GB) and TTR Officine Rigamonti's Pol Tarres (ESP).
After much anticipation the fifth round of the World Enduro Super Series got underway in Sibiu, Romania, marking the 16th edition of Red Bull Romaniacs. Thousands of spectators gathered on the city streets to watch the world's best Enduro riders, from up to 50 nations, do battle.
As the feature race of the day, the bumper-entry Gold Class saw 38 riders take to the start line for the 10-minute plus one lap race.
Poland's Taddy Blazusiak (KTM) was eager to show his speed and quickly grabbed the holeshot. Riding both aggressively and confidently on the tough and technical course, Blazusiak controlled the lead for the majority of the race.
Fending off early challenges from Sherco Factory Racing's Wade Young (RSA), he managed to pull clear and claim victory.
Walker And Tarres Fight For Second
Behind Blazusiak the fight for the remainder of the podium places was intense. As Young made mistakes and slipped backwards, Walker and Tarres came to the fore. Tarres momentarily took up second over Walker, but a mistake on the log beam allowed Walker back in front to eventually place second.
Despite his mistake, Tarres delivered one of his most impressive performances of the series so far to secure the final step of the podium in third. Rockstar Energy Husqvarna Factory Racing's Alfredo Gomez (ESP) rode a quiet race for fourth, with teammate Bolt in fifth.
McCarthy Tops Silver Class Podium
In the Silver class it was a win for USA's Dustin McCarthy. The American rode to victory over Finland's Aleksi Vilkko with Britain's Stefan Simpson in third.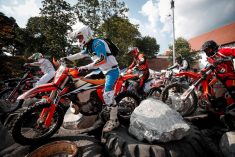 The Bronze class saw Australia's Brent Brady take a confident win over Brazil's Marco Faria, with the Netherland's Robin Holtmeulen third.
Red Bull Romaniacs now moves into the surrounding Carpathian Mountains for Off Road Day 1.
1. Gold Class: Taddy Blazusiak (KTM – POL): "I had a great start – Billy Bolt was to the side of me and riding aggressive, but I thought to myself I'm not having any of it. I got my head down and charged for a few laps, but then I made a little mistake. Luckily, I had a good gap to the guys behind so was able to stay in front. From then on I rode defensive lines and just took it steady. It feels great to get the win, although it doesn't mean that much in terms of the whole event, however it's still a good feeling to win here in front of the crowds."
2. Gold Class: Jonny Walker (KTM – GB): "I had a bit of a nightmare in the qualifying – it went ok but it just wasn't fast enough for the front row, so that was a bit of a disadvantage at the start of the final. I'm happy with second – I could see Taddy but just couldn't gain on him. My momentum is building gradually as this season goes on. I'm feeling confident going into this one. We've made a few changes to the bike over the break and I'm positive we can turn things around here in Romania."
3. Gold Class: Pol Tarres (Husqvarna – ESP): "This morning I had a super good feeling with the track and the bike and I knew I would be able to push in the final. In the end it all went well. I had a good battle with Jonny throughout the race, but eventually he got second and I got third. But I'm super happy to be on the podium here at Red Bull Romaniacs – it's one of the toughest races in the world. The result means I have to start first tomorrow, but my plan is push as hard as I can and hopefully stay with Jonny and Taddy if they come past me."
1. Silver Class: Dustin McCarthy: "I had no idea I was in the lead – I knew I was close, but I didn't realise I was winning. I was going as fast as I could out there, but also trying to conserve to make it through the race. I was getting pretty tired at the end, that's for sure. I'm super stoked to be here – Red Bull Romaniacs is my favourite event of the year, so to win the Silver Prologue feels great."
1. Bronze Class: Brent Brady: "I'm exhausted! That was awesome though. I had a blast out there fighting for the win. The rock garden was the hardest section but everything else was manageable for us in Bronze so the battles were really fun. It's awesome to win – here's to a good week ahead."
Results – Round 5: Red Bull Romaniacs, Prologue
Gold Class
1. Taddy Blazusiak (KTM – POL) 10:48.266; 2. Jonny Walker (KTM – GB) +12.002; 3. Pol Tarres (Husqvarna – ESP) +14.249; 4. Alfredo Gomez (Husqvarna – ESP) 25:746; 5. Billy Bolt (Husqvarna – GB) +29.999; 6. Manuel Lettenbichler (KTM – GER) +30.752; 7. Graham Jarvis (Husqvarna – GB) +34.250; 8. Wade Young (Sherco – RSA) +35.499; 9. Mario Roman (Sherco – ESP) +1:07.501
Silver Class
1. Dustin McCarthy (USA) 5 laps, 9:32.387; 2. Aleksi Vilkko (FIN) 9:36.133; 3. Stefan Simpson (GB) 9:40.130; 4. Sam Winterburn (GB) 9:57.833; Fabien Poirot (FRA) 10:16.637…
Bronze Class
1. Brent Brady (AUS) 4 laps, 9:48,877; 2. Marco Faria (BRA) 10:16.627; 3. Robin Holtmeulen (NLD) 11:13.127; 4. Alexander De Haan (NLD) 12:06.880; 5. Ole-Johnny Skoien (NOR) 12:18.130…