Jarvis Masters The Mountains On Red Bull Romaniacs Day One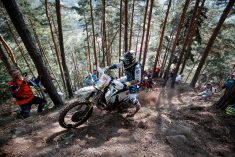 Sibiu, Romania – 31 July, 2019 — Britain's Graham Jarvis has claimed victory on Off Road Day One at Red Bull Romaniacs, round five of the World Enduro Super Series. The Rockstar Energy Husqvarna Factory Racing rider charged to the top of the standings on the opening full day of competition, finishing ahead of Sherco Factory Racing's Wade Young (RSA) and Germany's Manuel Lettenbichler.
With Tuesday's Prologue in Sibiu soon forgotten, the competitors from 50 nations quickly got down to business on Off Road Day One. Although the shortest track in this year's race at 102 kilometres in length for the Gold Class riders, it was anything but easy. With a brutal climb directly after the 6.45am start, riders were immediately woken up and put to work.
Tarres Leads Them Out
At the head of the field it was TTR Officine Rigamonti's Pol Tarres (ESP) who led the riders out, followed by Red Bull KTM Factory Racing's Jonny Walker (GB) and Taddy Blazusiak (KTM – POL) – all separated by three-minute gaps.
Starting seventh on the road, Jarvis quickly went to work and closed in on his rival, using the opening climb to his advantage. But it was clear he wasn't going to have things all his own way as Lettenbichler, Young, Blazusiak and Alfredo Gomez (Husqvarna – ESP) kept him honest.
Charge To The Finish
During the afternoon the leading group broke up, with Jarvis, Lettenbichler and Young pulling clear. A technical problem saw Blazusiak drop back, losing positions as he fought to overcome his issue, while Walker sat steady in sixth.
On corrected time it was Jarvis who took the opening day win by one minute and 12 seconds from Young, with Lettenbichler only one minute further back in third. With Mario Roman (Sherco -ESP) fourth and Gomez fifth, the top five are separated by less than four minutes.
Cyprian Off To Flying Start
Delivering one of the day's most impressive rides was JD Gunnex KTM's David Cyprian (CZ). The young 21-year-old looked confident on the challenging climbs and it showed with the privateer claiming a well-deserved seventh.
Artola Tops The Silver Standings
In the Silver class the top honours went to Spain's Josu Artola who showed his form in the hot temperatures to pull 10 minutes clear of second-placed Emanual Gyenes (ROU). With a number of riders given 10-minute penalties, third place went to Great Britain's Josef Westgarth with Patrick Riegler (AUT) in fourth.
The heavily contested Bronze class saw Poland's Marcin Weglarz take an early lead in proceedings. Weglarz topped the standings over France's Jean Michel Vigand with Germany's Wilhelm Ehm third.
The opening day in the mountains for the Iron class saw Israel's Oz Nehoray secure a commanding 13-minute 30-second margin of victory. Italy's Agostino Crema was second with USA's Danny Melvin third.
Longest Stage To Come
Red Bull Romaniacs continues with Off Road Day 2 where competitors will tackle a new course that will take them deeper into the Carpathian Mountains. The longest day of the event, Gold class will cover 151 kilometres of riding.
Graham Jarvis (Husqvarna – GB): "It was an easier day compared with the Off Road Day 1 I had last year, which I was quite happy about. I didn't really make any time on the difficult sections, but I kept a good pace throughout the race. Importantly, I didn't make any serious mistakes and was able to catch the other guys early on. I gained a bit of time then and it's probably made the difference today for sure. With my time here last year still haunting me I feel I've helped put things right on day one. But there's going to be faster days, so how it will suit me I don't know. But I need to get on with it and go full throttle."
David Cyprian (KTM – CZ): "I had a great day today and feel like I rode with a very solid pace. I managed to stay mistake-free through the day and ended up seventh, which is a great start to the week. As we finish today it's just started to rain, so tomorrow might be pretty tough if it continues like that. But I'm looking forward to it and want to keep this momentum going – we'll see what happens during the next few days."
Pol Tarres (Husqvarna – ESP): "Today was a really hard day – we had a lot of really difficult climbs to deal with. Starting at the front was not easy and completely new for me, but I tried my best today. The top guys caught me but I was able to ride a lot of the day with Jonny Walker and Taddy Blazusiak. Taddy also had a problem with his bike so I stopped to help him fix it. I think sometimes it's good to show camaraderie like that but hopefully he won't have to exchange the favour with me this week. Overall, I'm pleased with my performance and navigation – I didn't have any problems with the GPS. I finished in ninth today, which is not too bad, but there are three more days so we will see what happens."
Provisional Results – Round 5: Red Bull Romaniacs, Off Road Day 1
Gold Class
1. Graham Jarvis (Husqvarna – GB) 4:27:16; 2. Wade Young (Sherco – RSA) 4:28:31; 3. Manuel Lettenbichler (KTM – GER) 4:29:22; 4. Mario Roman (Sherco – ESP) 4:30:11; 5. Alfredo Gomez (Husqvarna – ESP) 4:31:01; 6. Jonny Walker (KTM – GB) 4:45:13; 7. David Cyprian (KTM – CZ) 4:46:58; 8. Taddy Blazusiak (KTM – POL) 4:48:06; 9. Pol Tarres (Husqvarna – ESP) 4:54:08; 10. Dieter Rudolf (KTM – AUT) 5:08:01…
Silver Class
1. Josu Artola (ESP) 4:13:22; 2. Emmanuel Gyenes (ROU) 4:23:35; 3. Josef Westgarth (GB) 4:24:56; 4. Patrick Riegler (AUT) 4:25:24; 5.Alberto Aramburu (ESP) 4:27:08…
Bronze Class
1. Marcin Weglarz (POL) 4:08:24; 2. Jean Michel Vigand (FRA) 4:11:15; 3. Wilhelm Ehm (GER) 4:19:33; 4. Valerii Oleinikov (RUS) 4:24:44; 5. Eric Slominski (USA) 4:24:45…
Iron Class
1. Oz Nehoray (ISR) 3:08:29; 2. Agostinio Crema (ITA) 3:21:59; 3. Danny Melvin (USA) 3:24:15; 4. Anna Schmölzl (GER) 3:25:01; 5. Graham Maclachlan (RSA) 3:27:18…