Lettenbichler Leads On Penultimate Day Of Red Bull Romaniacs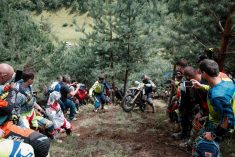 Sibiu, Romania – 2 August, 2019 — Germany's Manuel Lettenbichler takes control of the race lead on the penultimate day at Red Bull Romaniacs. With the fight for victory at round five of the World Enduro Super Series proving hotly contested, Lettenbichler took the win on Off Road Day Three over Red Bull KTM Factory Racing's Taddy Blazusiak (POL) and Rockstar Husqvarna Factory Racing duo Graham Jarvis (GB) and Alfredo Gomez (ESP).
The fourth day of racing in the world's toughest Hard Enduro Rallye saw competitors from 50 nations face another long and demanding day in the saddle. An early start for all took riders over one and a half hours from the host city Sibiu, before a 142-kilometre course weaved its way back.
At the head of the field it was Gomez who led the competitors away with Jarvis and Lettenbichler in tow. Sixth on Off Road Day Two, Blazusiak favoured the terrain more today and was quickly up to speed with the leading trio of Gomez, Lettenbichler and Jarvis, with Billy Bolt (Husqvarna – GB) right behind him.
Chop And Change Up Front
For the majority of the day, the riders chopped and changed position. Gomez held the lead in the closing stages with Blazusiak, Jarvis and Lettenbichler closely positioned waiting for an opportunity. That came on the day's final climb when Gomez came unstuck. Lettenbichler was quick to pounce and took the lead to charge ahead and win the day.
Gomez crossed the finish line in second, but on corrected time it was Blazusiak who edged out Jarvis to the runner-up spot, shuffling Gomez back to fourth. A strong ride from Bolt saw him end his day in fifth, with Sherco Factory Racing's Mario Roman (ESP) having a difficult day for sixth. Jonny Walker (KTM – GB) and David Cyprian (KTM – CZ) were seventh and eighth respectively, while Classic Enduro specialists Josep Garcia (KTM – ESP) and Nathan Watson (KTM – GB) completed the top 10.
With Manuel Lettenbichler becoming the third race leader in as many days, the German holds a one-minute and nine-second advantage entering the final day of competition. Gomez sits behind him in second, but with Jarvis only a further three minutes adrift, it's still all very much to play for.
Artola Wins Again In Silver
Spain's Josu Artola continued his domination of the Silver class by claiming his third victory of the week. Artola has proved the rider to beat, despite the best efforts from his closest competitors. Now finding his form in this year's race, Sam Winterburn (GB) once again placed second to Artola to maintain his position of second in the race. With a fourth-place result, Josef Westgarth (GB) completes the overall top three.
In Bronze, Off Road Day Three marked a win for USA's Eric Slominski over Poland's Marcin Welglarz and Romania's Radu Sardarescu. With another top-three ride to his credit, Welgalrz holds a three-minute lead over France's Jean Michel Vigand.
Schmolzl Close To Creating History
The Iron class sees Germany's Anna Schmolzl extend her lead in the race. While Britain's Tom Simpson won the day, another consistent and soild ride from Schmolzl moves her 16 minutes clear of her nearest competitor Eduardo Martinez of Mexico. If Schmolzl can go on to win, she will become the first female rider in the history of Red Bull Romaniacs to do so.
Round five of the World Enduro Super Series at Red Bull Romaniacs, concludes Saturday, August 3. Watch the final day of racing live on Red Bull TV.
Manuel Lettenbichler (KTM – GER): "My day started really well, I passed Graham at the beginning and then caught Alfredo and the two of us rode together for most of the day. There was some pretty difficult stuff today, but I didn't struggle with the uphills as much as the last two days so I'm pretty happy. Toward the end of the day Alfredo really opened it up on one of the faster sections – full motocross style. I thought to myself there's no way I can push like that so I let him go. Luckily, I caught him again right before the last uphill and managed to get past him, so that was a really good feeling. I'm the overall leader now so hopefully I can keep that momentum until the finish tomorrow."
Taddy Blazusiak (KTM – POL): "The day went good today, Billy and I set off really hard and soon caught up to Graham. I passed Jonny and Mario along the way and pretty much kept my position till the finish. I lost a little bit of time toward the end, but I'm stoked with second. It's a shame I lost so much time on the first day, but we'll take a look at the overall now and if we're in with a chance I'll push hard again tomorrow. The level of riding is so close this year so when you lose a little time it's so hard to get it back. Either way I'll be trying my best tomorrow on the final day."
Sam Winterburn (GB): "I'm feeling great to be honest. I had a bit of a bad morning today but was able to regroup this afternoon and pull a bit of time back. The Silver tracks have been really enjoyable in general. I did the Gold class a couple of years ago and it was too tough for me, so I dropped down for this year. Don't get me wrong, it's still really tough and there's some fast boys riding, but overall it's all going good. Going into the final day tomorrow my plan is just to try to stay on two wheels and bring it home – I'm looking forward to it."
Anna Schmolzl (GER): "It's been such a good week for me so far and I had a great day today. It was the hardest day for me today because it's quite slippery after the rain and there was a lot of debris on the tracks. I haven't won a day yet but I'm leading the overall and hopefully I can bring it to the finish tomorrow. It would mean so much to me to win the Iron class, especially as this will be the last race for me before I have to have surgery on my knee in three weeks' time. After that I will be off the bike for maybe half a year."
Provisional Results: Round 5 – Red Bull Romaniacs, Off Road Day 3
Gold Class
1. Manuel Lettenbichler (KTM – GER) 6:13:00; 2. Taddy Blazusiak (KTM – POL) 6:01:17; 3. Graham Jarvis (Husqvarna – GB) 6:06:16; 4. Alfredo Gomez (Husqvarna – ESP) 6:07:22; 5. Billy Bolt (Husqvarna – GB) 6:07:43;; 6. Mario Roman (Sherco – ESP) 6:14:54; 7. Jonny Walker (KTM – GB) 6:22:33; 8. David Cyprian (KTM – CZ) 6:37:36; 9. Pol Tarres (Husqvarna – ESP) 6:44:16; 10. Josep Garcia (KTM – ESP) 7:02:52…
Silver Class
1. Josu Artola (ESP) 5:52:04; 2. Sam Winterburn (GB) 6:10:41; 3. Charles Feyrit (FRA) 6:13:56; 4. Josef Westgarth (GB) 6:15:02; 5. James Jackson (GB) 6:17:08; 6. Dustin McCarthy (USA) 6:19:53; 7. Fabien Poirot (FRA) 6:21:53; 8. Marc Wulf (GER) 6:23:08; 9. Tyler Kinkade (USA) 6:28:56; 10. Emmanuel Genes (ROU) 6:33:24…
Bronze Class
1. Eric Slominski (USA) 5:23:49; 2. Marcin Welglarz (POL) 5:25:52; 3. Radu Sardarescu (ROU) 5:27:57; 4. Jordi Roca (ESP) 5:28:18; 5. Brent Brady (AUS) 5:29:29…
Iron Class
1. Tom Simpson (GB) 4:36:55; 2. Anna Schmolzl (GER) 4:38:26; 3. Eduardo Martinez (MEX) 4:38:57; 4. Danny Melvin (USA) 4:42:00; 5. Oz Nehoray (ISR) 4:44:58…
Overall Classification (After Off Road Day 3)
Gold Class
1. Manuel Lettenbichler (KTM – GER) 16:21:55; 2. Alfredo Gomez (Husqvarna – ESP) 16:23:04; 3. Graham Jarvis (Husqvarna – GB) 16:26:01; 4. Mario Roman (Sherco – ESP) 16:41:31; 5. Taddy Blazusiak (KTM – POL) 16:51:57; 6. Jonny Walker (KTM – GB) 17:07:12; 7. Billy Bolt (Husqvarna – GB) 17:42:34; 8. David Cyprian (KTM – CZ) 17:51:09; 9. Pol Tarres (Husqvarna – ESP) 18:37:52; 10. Josep Garcia (KTM – ESP) 19:23:07…
Silver Class
1. Josu Artola (ESP) 15:15:20; 2. Sam Winterburn (GB) 16:02:01; 3. Josef Westgarth (GB) 16:08:02; 4. Dustin McCarthy (USA) 16:26:29; 5. Alberto Aramburu (ESP) 16:29:25…
Bronze Class
1. Marcin Weglarz (POL) 14:28:07; 2. Jean Michel Vigand (FRA) 14:31:04; 3. Eric Slominski (USA) 14:37:59; 4. Brent Brady (AUS) 14:47:23; 5. Radu Sardarescu (ROU) 14:56:47…
Iron Class
1. Anna Schmolzl (GER) 13:03:11; 2. Eduardo Martinez (MEX) 13:19:49; 3. Agostino Crema (ITA) 13:31:40; 4. Danny Melvin (USA) 13:33:20; 5. Oz Nehoray (ISR) 13:37:53…