Alfredo Gomez Takes Control On Day Two At Red Bull Romaniacs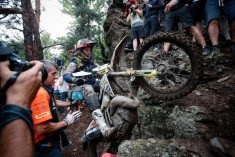 Sibiu, Romania – 1 August, 2019 — Rockstar Energy Husqvarna Factory Racing's Alfredo Gomez (ESP) wins Off Road Day Two at Red Bull Romaniacs to take the provisional lead of round five of the World Enduro Super Series. The Spaniard put in a strong ride to lead home Off Road Day One winner Graham Jarvis (Husqvarna – GB) with Germany's Manuel Lettenbichler (KTM) third.
The second day in the mountains at Red Bull Romaniacs saw competitors face the longest course of the week. The Gold class completed 151 kilometres, covering a mix of difficult rocky climbs in the morning and high-speed grassy trails in the afternoon. With over 100 kilometres of riding before the mid-day service, it would prove a physical and energy-sapping start to the day for all.
Wade Young Exits The Race
While Graham Jarvis led the field away at 6.30am, drama would quickly strike Sherco Factory Racing's Wade Young (RSA) who followed behind him in second. A technical issue on the first climb saw the 2018 winner return to the start line for hasty repairs, hoping to fix a gear selector issue. Despite losing almost one hour, Young re-joined the race, but he was ultimately forced to retire and call time on his bid to defend his Red Bull Romaniacs crown.
At the head of the field, Jarvis looked strong through the morning's Gold class sections and maintained his position as first on the road until service. Behind him, Gomez was on a charge and worked his way up to the wheel tracks of Lettenbichler, but was hungry for more.
Finding a second wind as they exited service, the Spaniard went on a charge. Catching and overtaking Jarvis late in the day, Gomez was first past the post to ultimately win the day, but more importantly take control of the race lead. Admitting to not having the pace in the afternoon on the faster going, Jarvis placed second on the day. Keeping a consistently fast pace going, Lettenbichler ended his day in third.
Behind the leading trio, Sherco Factory Racing's Mario Roman (ESP) rode a lonely race for fourth, while the Red Bull KTM Factory Racing duo of Jonny Walker (GB) and Taddy Blazusiak (POL) placed fifth and sixth respectively.
Building on his day one performance, Billy Bolt (Husqvarna – GB) improved to seventh, while JD Gunnex KTM Racing's David Cyprian (CZ) continued to impress with eighth. Spain's Josep Garcia (KTM) enjoyed a strong day with the Classic Enduro specialist placing ninth, while TTR Officine Rigamonti's Pol Tarres (ESP) was 10th.
Gold Class Rookies Rudolf And Walkner Impress
Stepping up to the Gold class as the 2018 Silver class winner, Austria's Dieter Rudolf (KTM) is fast adapting to the challenge. The Austrian backed up his 10th place on Off Road Day One with 11th on Day Two and currently lies 10th overall in the race.
His compatriot Michael Walkner (KTM – AUT), Silver Class runner-up in 2018, is also performing well in his debut Gold class ride. The 21-year-old has ended both days in 13th to sit 12th overall at the halfway point in the race.
Gomez Moves Into The Overall Lead
Gomez' win on Off Road Day Two sees him move to the top of the Gold Class standings with two days still remaining. Jarvis slips down to second and is five minutes behind his teammate. Just over one minute behind Jarvis, Lettenbichler maintains third overall. With Roman in fourth, 10 minutes currently separate the top four.
In the Silver Class it's Spain's Josu Artola who continues to set the pace securing his second victory of the week. Behind him Josef Westgarth (GB) took second, ahead of Alberto Aramburu (ESP) and Sam Winterburn (GB). Winterburn is second overall to Artola, with Westgarth less than two minutes behind in third.
Vigand Tops Bronze Class
The Bronze category saw France's Jean Michel Vigand push through for victory. The win sees him take control of the standings ahead of Marcin Welglarz (POL) who placed sixth today. USA's Eric Slominski holds third overall thanks to his second-place ride on Off Road Day Two.
In the Iron class it was Russia's Vadim Tagirov who won the day to move into the lead in the overall classification. Germany's Anna Schmolzl continues to show great form, second on Off Road Day Two moves her up to the second overall. Mexico's Eduardo Martinez ended day two in third. Placing fifth on day two, day one leader Agostino Crema (ITA) slips to third position.
Alfredo Gomez (Husqvarna – ESP): "I was on the hunt today – chasing down the boys in front. I had a very good pace and really enjoyed my riding today. After the service it was a little bit scary going so fast on the grass, but all-in-all it was a very good day for me and I hope I can keep this pace up for the next couple of days."
Josep Garcia (KTM – ESP): "I'm really happy to be here at the finish line once again. Today was a really hard day, we hit some rain in the mountains and it made the uphills really slippery and difficult. We've got two more days to go so hopefully the weather will be ok with no rain. I really enjoyed my riding yesterday, the course was tough but flowed quite well, today was tougher with a lot of pushing and that isn't as much fun. Overall, I'm feeling good and making some steady progress, so we'll see what happens over the next couple of days."
Dieter Rudolf (KTM – AUT): "It's amazing riding the Gold class this year. The first day went well for me, it wasn't too hard and it was completely dry, so I had no problems with the uphills. Today was a lot harder and then after the second checkpoint I had a big crash on a fast section and hit a tree with my shoulder. That knocked my speed a little, but then at the service point I was able to relax a little and began to feel better. I found my flow again in the second half of the day and I'm really happy to get here to the finish. The plan for the next two days is to do my best and hopefully make it safely to the finish line."
Michael Walkner (KTM – AUT): "It's pretty cool to be here riding in the Gold class – I never expected such a cool race. I had the perfect race last year with second place in the Silver class and this year is also running good so far. The first day was not too difficult compared to last year, but today was so hard – possibly the hardest race day of my life. I'm looking forward to the next two days though and hopefully they will go well."
Results: Round 5: Red Bull Romaniacs, Off Road Day 2
Gold Class
1. Alfredo Gomez (Husqvarna – ESP) 5:41:00; 2. Graham Jarvis (Husqvarna – GB) 5:46:58; 3. Manuel Lettenbichler (KTM – GER) 5:47:22; 4. Mario Roman (Sherco – ESP) 5:49:54; 5. Jonny Walker (KTM – GB) 5:55:56; 6. Taddy Blazusiak (KTM – POL) 5:59:37; 7. Billy Bolt (Husqvarna – GB) 6:09:08; 8. David Cyprian (KTM – CZ) 6:19:32; 9. Josep Garcia (KTM – ESP) 6:54:07; 10. Pol Tarres (Husqvarna – ESP) 6:57:28…
Silver Class
1. Josu Artola (ESP) 5:02:54; 2. Josef Westgarth (GB) 5:16:02; 3. Alberto Aramburu (ESP) 5:16:35; 4. Sam Winterburn (GB) 5:17:04; 5. Marc Wulf (GER) 5:26:11…
Bronze Class
1. Jean Michel Vigand (FRA) 4:29:58; 2. Eric Slominski (USA) 4:34:25; 3. Marius Muntean (ROU) 4:35:04; 4. Radu Sardarescu (ROU) 4:37:34; 5. Brent Brady (AUS) 4:38:11…
Iron Class
1. Vadim Tagirov (RUS) 4:51:43; 2. Anna Schmolzl (GER) 4:59:44; 3. Eduardo Martinez (MEX) 5:09:33; 4. Oz Nehoray (ISR) 5:14:26; 5. Agostino Crema (ITA) 5:20:48…
Overall Classification (After Off Road Day 2)
Gold Class
1. Alfredo Gomez (Husqvarna – ESP) 10:15:42; 2. Graham Jarvis (Husqvarna – GB) 10:19:45; 3. Manuel Lettenbichler (KTM – GER) 10:21:42; 4. Mario Roman (Sherco – ESP) 10:26:37; 5. Jonny Walker (KTM – GB) 10:44:39; 6. Taddy Blazusiak (KTM – POL) 10:50:40; 7. David Cyprian (KTM – CZ) 11:13:33; 8. Billy Bolt (Husqvarna – GB) 11:34:51; 9. Pol Tarres (Husqvarna – ESP) 11:53:36; 10. Dieter Rudolf (KTM – AUT) 12:17:58…
Silver Class
1. Josu Artola (ESP) 9:23:16; 2. Sam Winterburn (GB) 9:51:20; 3. Josef Westgarth (GB) 9:53:00; 4. Alberto Aramburu (ESP) 9:53:24; 5. Emmanuel Gyenes (ROU) 10:04:20…
Bronze Class
1. Jean Michel Vigand (FRA) 8:55:01; 2. Marcin Weglarz (POL) 9:02:15; 3. Eric Slominski (USA) 9:14:10; 4. Brent Brady (AUS) 9:17:54; 5. Marius Muntean (ROU) 9:22:06…
Iron Class
1. Vadim Tagirov (RUS) 8:19:36; 2. Anna Schmolzl (GER) 8:24:45; 3. Agostino Crema (ITA) 8:37:56; 4. Eduardo Martinez (MEX) 8:40:52; 5. Danny Melvin (USA) 8:51:20…