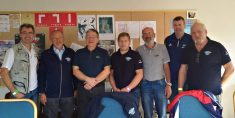 The FIM Enduro & Rally Commission took advantage of the moment on Thursday in Heinola on the the final of the European Enduro Championship: Almost all members of the commission were present and so the Chairman Marco Bolzonello (Italy) had invited to an extraordinary meeting.
In particular, the two guests, Enduro promoter Wolfgang Butzner and the Enduro press officer, spoke about the future of Enduro racing and the development of the number of participants beyond the coming year.
Bolzonello then discussed with the members Pavol Sas (Slovakia), Robert Svensson (Sweden), Artus Robeznieks (Latvia) and Hannu Häkkälä (Finland) the regulations and implementation of the events Rallye, Cross-Country and Bajas for the coming year.