Fourth round in Finland – 3nd and final day in Heinola: Finland wins in Finland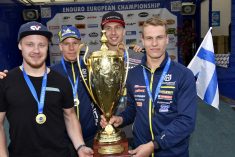 On the third and last riding day at the finals of the European Enduro Championship in Heinola, Finland, the national teams' scores were decided:
The "Heinola MotoKlub" (HeMK) had prepared the final motocross on the former MX World Championship track very well and could therefore be carried out without problems.
The riders went to the start in classes, but their results were also evaluated across the board for the teams.
In the end it was not surprising that host Finland won the Trophy with Roni Kytönen, Antti Hänninen, Mika Tamminen and Eemil Pohjola. Second was the Trophy from Slovakia and third was the team from Sweden.
Finnish rider Pohoja had already secured his individual title as European Champion in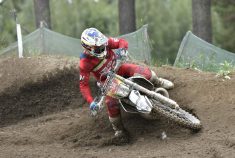 the class over 250 ccm four stroke the day before. But the most outstanding rider from the Finnish team was undoubtedly Roni Kytönen: The 19-year-old junior not only won the European Champion title in the junior class E1, but also became champion of all classes in the overall ranking. In addition with the Trophy (see above) and his team from "Kytönen Motorsport" he also won the Trade Team title.
20 years after his father Vesa had become World Champion, his son Roni now had the greatest possible international success in the finals of the European Enduro-Championship.
In the Junior Trophy the team from Sweden won with individual European Champion Max Ahlin, Albin Norrbin, Oscar Ljungström and Noah Largen, ahead of Finland and France.
The Swedes were also at the top of the women's podium: They won the women's trophy with European Champion Hanna Berzelius, sisters Martina and Emilia Reimander and Emma Wennbom, ahead of Finland and England.
But the Finns were successful again in the senior category: The senior trophy was won by Janne Mukkala, Santeri Enjala, Mika Paavola and Marco Leponiemi ahead of Sweden.
But because the championship had not been decided prematurely in all classes, attention in the second race of the day was focused on the leader Sebastian Krywolt: The Pole defended not only his lead but also his European championship title in the senior class with a day's victory.
The Italian Maurizio Micheluz didn't have such an easy time: The Husqvarna rider started the last day with a lot of points advantage, but in the cross-race of the 250 cc two-stroke class he only finished third. But that was enough for the already 36 year old rider, to also defend the European Championship title in the 250 2-stroke class.
More information and schedules, results and links, there are always up to date and right on the official website: http://european-enduro.com/