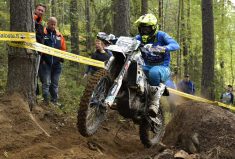 Double success and other titles
Local hero Roni Kytönen was able to clinch both possible titles early, on the second day of the European Enduro Championship finale in Heinola, Finland.
With an overall victory of the day, the Husqvarna rider not only clinched the title in the small cubic capacity class juniors E1, but also the European Champion title in the overall standings of all drivers.
But in the first of the three laps it didn't look like that yet: In the second special stage, the 19-year-old had crashed and lost about 20 seconds to the competition. He followed this gap and made up for it in five tests. At the beginning of the third lap he was able to take the lead again and then kept his nerve and extended his lead to over 15 seconds.
Jed Etchells, the Briton, was the only one who had a real chance to win the title. He "excused" his second place on the day by saying that it wasn't as wet and slippery as it have been on the first day.
At the same time some titles in the different classes were decided prematurely:
With another day's victory the Swedish Hanna Berzelius on her Husqvarna secured the title in the women's singles with another day's victory.
Her only 17-year-old compatriot Max Ahlin became European Champion in the juniors under 21: The Husqvarna pilot took no risks, was in the class, so far unbeaten only second behind his compatriot Albin Norbbin, but that was enough for the early title.
In the cubic capacity junior class E2-E3, Jed Etchells, beaten by Kytönen, won the day on the Sherco by almost two minutes and at the same time won the early title. He thus follows in the footsteps of his British compatriots Steve Holcombe and Brad Freeman, who were also successful in the European Championship.
Although local hero and guest starter Mika Tamminen beat Jiri Hadek from the Czech Republic today, the KTM rider still won the European Championship title in the two-stroke 250 cc class early.
After Patrik Markvart had already been awarded the title in the small four-stroke class up to 250 ccm on the first day, the title in the large four-stroke class over 250 ccm went to local hero Eemil Pohjola on the second day. He won all the races with his TM.
At the final Motocross on the last day on the former Motocross World Championship track in Heinola, besides the victories in the event classification, the championship titles for the seniors and the small two-strokes up to 250 cc have to be riden out.
Find the livetiming in the internet: at https://live.kalkku.fi/
More information and schedules, results and links, there are always up to date and right on the official website: http://european-enduro.com/