EnduroGP Czech Republic – Day 2: Advantage Brad FREEMAN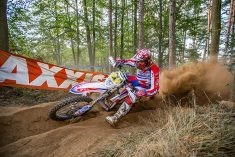 For the second day of the Grand Prix of the Czech Republic, played out in Uhlirske Janovice, the riding conditions were different thanks to the large number of entrants churning up the track yesterday. In some parts of the tests, the course had suffered from the passage of 120 competitors. Different pitfalls had appeared, ruts became deeper, and new stones were unearthed. It was necessary to be cautious to get through the Grand Prix, which was considered by many as the most difficult this season. The spectators, however, were simply able to enjoy the fantastic show, and they turned up in vast numbers to cheer on their favourites.
Brad FREEMAN (GBR-Beta) delivered another perfect performance in the EnduroGP class. The Brit barely had to look over his shoulder all day, despite exchanging special tests with his major rival Steve HOLCOMBE (GBR-Beta). The Beta Boano rider seemed to be completely recovered from the badly fractured collarbone he suffered during the Grand Prix of Greece. He goes into the final round of the season in Ambert (France) with a 10-point lead over HOLCOMBE. Not a big enough gap to relax, but then FREEMAN is not the type to relax!
Steve HOLCOMBE once again had to accept second place behind FREEMAN. The quadruple World Champion showed great fighting spirit, but he must once again bow to the superiority of his compatriot. Steve admitted that his fitness is finally better, but he still lacks strength and the power to keep up blistering pace throughout a long and technical event such as this. While he'll still be dreaming of retaining his EnduroGP title, the Beta rider now knows that the task will be difficult.
Danny MCCANNEY (GBR-TM), consistent and quick, took another EnduroGP podium on Sunday. The TM rider confirmed his great form, even if he is a bit disappointed not to have been able to keep up with his future ISDE teammates.
What a crazy day for Alex SALVINI (ITA-Honda)! Tenth this morning after the first lap, the Italian managed to climb to fourth overall! "Rocky" SALVINI brought his typical attacking spirit and took risks to pass opponents of the caliber of Matteo CAVALLO (ITA-Sherco) and Loic LARRIEU (FRA-TM). The Frenchman started his day well, but a huge crash in the 2nd Cross Test saw him lose a lot of time. However, the factory TM rider managed to pull it together at the end of the day to finish 5th.
Two other riders also had contrasting fortunes compared with Day 1. Matteo CAVALLO was 6th today after falling heavily this morning. Joe WOOTTON (GBR-Husqvarna) also tasted the dust on Sunday, while fighting for another strong top 5 finish. The young Brit made a mistake that cost him more than 30 seconds, he finished the day in 11th.
Further down the field Thomas OLDRATI (ITA-Honda) and Christophe CHARLIER (FRA-Honda) were separated by just fifteen seconds in the battle for 6th and 7th. Giacomo REDONDI (ITA-Husqvarna) was 8th and Benjamin HERRERA (CHI-Beta) 9th
Brad FREEMAN E1 World Champion!
This weekend has been filled with emotion for Brad FREEMAN – in addition to his two EnduroGP wins, he also took two victories in the E1 class and simultaneously won the world title for the 2nd time in his career! CAVALLO and OLDRATI completed the E1 podium today, and we will have to wait until France to see which of these two Italians will be 2nd in the championship.
In E2, SALVINI can consider himself back in business. The Italian had to bring all his talent, power, and determination to win on Day 2. He took the class victory in front of main title rival, LARRIEU, while REDONDI completed the top three today. Just two points now separate SALVINI and LARRIEU after a weekend that saw them temporarily swop championship positions. The finale at the GP of France will be electric between these two!
For Steve HOLCOMBE the goal is clear: the E3 title. However, he needs be wary because Danny MCCANNEY, second place in the standings, has all the skill and speed to snatch the crown from him in France. David ABGRALL (FRA-Beta) completed the E3 podium this Sunday.
In Junior, it was the Sherco Factory rider Theo ESPINASSE (FRA) who took his first overall class success in 2019. The Frenchman had to go all out to claim this feat, and there was an intense fight between ESPINASSE and the ever-impressive Antoine MAGAIN (BEL-KTM), as well as with Enric FRANCISCO (ESP-KTM). This success will give ESPINASSE extra confidence as his home GP approaches, as he aims to hold off FRANCISCO for second in the overall Junior championship.
MAGAIN confirms the good result he took on Saturday by taking another second place finish. He did a remarkable job of holding off the always strong Enric FRANCISCO. fight to the end against the French, for the position of dolphin of the Junior category.
In J1, ESPINASSE also won ahead of MAGAIN, and the likeable Dan MUNDELL (GBR-Sherco) took a great 3rd place after graduating from EY to EJ this weekend.
Enric FRANCISCO did the double this weekend in J2. In fact the podium was the same of that on Day 1 with Ruy BARBOSA (CHI-Husqvarna) 2nd, and Leo LE QUERE (FRA-Sherco) 3rd.
Hamish MCDONALD Forced To Wait.
Coming into this weekend there was a good chance that New Zealand's Hamish MACDONALD would be crowned Youth 125cc Champion. But after meticulous points calculations, it turns out that the ever cheerful Kiwi will have to wait a bit longer yet! Especially as the EY riders can 'drop' their 4 worst results. Some mistakes today put 'HammyMac' under pressure from Spain's Sergio NAVARRO (Husqvarna) who finished second. The protégé of Ivan CERVANTES took this position ahead of the Italian Claudio SPANU (Husqvarna). SPANU, who raced bravely with a fractured finger from day before, pocketed the 3rd position by half a second against his rival Matteo PAVONI (ITA-Beta).
He did it! Tom ELWOOD (GBR-Kawasaki) continues the British success in 2019. By winning again today he becomes the first Open 4-Stroke winner in the Champion Lubricants Enduro Open World Cup. The Kawasaki rider was joined on the podium by Fraser FLOCKHART (GBR-Yamaha) and Robert RIEDEL (GER-KTM).
In Senior David KNIGHT took his 12th victory in as many race days. The giant from the Isle of Man could do a 'clean sweep' if he gets the double win in France. He won today ahead of Vita KUKLIK (CZE-KTM) and Werner MÜLLER (AUT-KTM). Patrick HALGAS took his 2nd victory of the weekend in Open 2-Stroke, ahead of Benet Gomez (ESP-Gas Gas) and Rafal Bracik (POL-Gas Gas).
This is the end of this highly competitive and exciting Grand Prix of the Czech Republic. See you in 2 weeks for the grand finale of the 2019 EnduroGP season in Ambert (France).
What They Said:
Brad Freeman (GBR-Beta): "This season has not been easy, and winning this second senior title in my career really means a lot to me. It's a reward for all the hard work with my great team. Now all we have to do is finish the job in two weeks' time in France…"
Steve HOLCOMBE (GBR-Beta): "I can only congratulate Brad for his victory, he is really the strongest right now. I have to admit I'm not able to fight him like I want to. But we must never give up, so I will do my best to beat him in France. But my main focus now is getting the E3 title."
Alex SALVINI (ITA- Honda): "What a race! I'm really happy to have won E2 today. I have retained my championship lead this weekend, despite losing it briefly yesterday. As everyone saw last year, the title can be won or lost until the last second, so I will go to the final round with the will to do my best."
Hamish MCDONALD (NZ-Sherco): "It was a very good weekend, it does not matter if we still have to fight at the next round. What I see is that I've had a good season with a lot of wins, in spite of my injury, so I'm already feeling good."