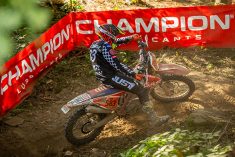 In its very first season, the Champion Lubricants Enduro Open World Cup has been a resounding success during the first 6 rounds of the 2019 season, and this 7th and final race should see the Cup end on a high with 47 riders enlisted in the three classes…
Let's preview the French GP!
Champion in the Open 2-Stroke class since the GP of Italy, Gonçalo REIS (P – Gas Gas) will be present at the season finale after missing the Czech Republic GP! The Portuguese rider will certainly be keen to get back on the top step of the podium but he'll need to fight hard against Benet GOMEZ (E – Gas Gas) and Nico RAMBOW (D – KTM) who are both in good form. Keep an eye out for Jorge PARADELO RODRIGUEZ (E – Gas Gas), Cole COOKLAND (GB – KTM), Daniel MÖRBE (D – Husqvarna), Charlie CHATER (GB – Yamaha) and George YARDLEY (GB – KTM)…
French riders Louis BADAL (F – TM) and Steve PASCO (F – TM) will hope to shine at their home GP.
FLOCKHART or RIEDEL as Runner-Up to ELLWOOD?
In Open 4-Stroke, while Tom ELLWOOD (GB – Kawasaki) was crowned in Uhlirske Janovice two weeks ago, he will not be present in France, which will leave the GP victory chance open to Fraser FLOCKHART (GB – Yamaha), Robert RIEDEL (D – KTM) and Mathias VAN HOOF (B – Beta), we'll find out who will be the Runner-Up in the class this season. Behind this trio, Rene SCHILLING (D – Husqvarna) will certainly seek to confirm his place in the Top 5 but will have to deal with Portugal's Rodrigo BELCHIOR (KTM) and the French armada composed of LEVESQUE (Honda), ESTIVAL (Honda), DUPRE (Honda), FAURE (Honda), MEKIL (Sherco), BECKER (KTM), DEFFRADAS (Yamaha), SECHAUD (Yamaha), MARCHAL (Yamaha) and BRUNET (KTM)…
Finally, in Open Senior, the presence of David KNIGHT (GB – TM) is still in doubt, which could open the door for a new winner in the class for riders over the age of 37. Andrea BELOTTI (I – KTM), Patrik ANDERSSON (S – Yamaha), Fernando FERREIRA (P – Sherco) and Enrique VEGA GONZALEZ (E – KTM) will all want to stand on the top step. But keep an eye out for Matthias RENKEN (D – Husqvarna), Thomas KLEIN (D – Husqvarna) and Frölig DETLEV (D – Husqvarna).
Meanwhile, Pierre HOURDIN (F – Husqvarna) will aim for a place in the Top 10 at his home GP. And many other French riders will be hoping for good finishes, such as Michel BERTRAND (KTM), Christophe TIVERNY (Husqvarna), Thierry ALEXIS (Beta), Nicolas BOYER (Husqvarna), Stéphane DUBUIS (KTM) and Berges FARFAREL (KTM).
This Acerbis Grand Prix of France will see the curtain fall on an encouraging first year for the all-new Champion Lubricants Enduro Open World Cup, and no doubt all the riders will put on a good show in front of the many French fans expected throughout the weekend!