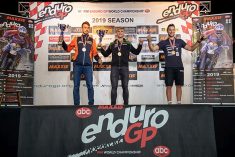 BELOTTI, VAN HOOF & REIS Stand Out!
For the last Grand Prix in the Champion Lubricants Enduro Open World Cup, 40 riders made the trip to Ambert to fight and try to lock down the last positions on the podiums of the three categories…
In Open 2-Stroke, absent from the Grand Prix of Czech Republic, Gonçalo REIS (P – Gas Gas) regained his dominance, securing two new victories against Benet GOMEZ (E – Gas Gas) and confirming his status as class champion! In third place was the young Brit, Jack CADWALLADER (KTM), who made his mark on Saturday with an impressive ride. While Jorge PARADELO RODRIGUEZ (E – Gas Gas) took 3rd on Day 2, completing a 100% Gas Gas podium alongside REIS and GOMEZ. With 5th and 7th places, Germany's Nico RAMBOW (KTM) secured 3rd in the category standings, which means the top three were: Gonçalo REIS, Benet GOMEZ and Nico RAMBOW. At the same time, GOMEZ also wins the Champion Lubricants Trophy, and leaves with a cheque for 1000€ in addition to an abundance of Champion products!
GOMEZ – Winner of the Champion Lubricants Trophy!
Over in the Open 4-Stroke class, the absence of 2019 class champion, Tom ELLWOOD (GB – Kawasaki), completely opened out the race weekend to other competitors. Two great days of racing culminated with a double victory from the friendly and fun-loving Belgian, Mathias VAN HOOF (Beta). Robert RIEDEL (D – KTM) and local AMV rider Dylan LEVESQUE (F – Honda) rounded out the top three. With this double win, VAN HOOF was able to take third in the championship, to the detriment of Fraser FLOCKHART (GB – Yamaha) – another victim of Epstein-Barr virus, and unable to ride in France. With two second places, RIEDEL, for his part, takes the place of 'Vice-Champion' behind ELLWOOD.
Finally, in Open Senior, the absences of KNIGHT and MÜLLER, gave way to a new winner! Very often on the podium, Andrea BELOTTI (I – KTM) was able to get two victories in France, ahead of Spanish rider Enrique VEGA GONZALEZ (E – KTM) and Sweden's Patrik ANDERSSON (S – Yamaha). With this double, BELOTTI takes 3rd step on the final podium, behind the unstoppable KNIGHT and MÜLLER. Thanks to their podiums, ANDERSSON and VEGA GONZALEZ found their places in Top 5 overall at the expense of Fernando FERREIRA (Sherco).
As for the Trophy Team, the FMP team win the World Cup in front of the KTM-GST Berlin Racing and the Lithuanian Kilobaitas Racing Team!
This inaugural season of the Champion Lubricants Enduro Open World Cup has been a great success, and we're already looking forward to 2020 to see if REIS, ELLWOOD and KNIGHT will be able to keep hold of their titles, or if new riders will come in to do battle! See you in April 2020 for a new edition of the Open World Cups!
What They Said:
Andrea BELOTTI : "I've never before had the opportunity to win a round of the World Championship in my long career, so I am obviously very happy and quite emotional today! Of course KNIGHT and MÜLLER were not riding, but a victory is still a victory. This Open Cup championship allowed me to come and ride again at the international level, and to live my passion thoroughly!"
Gonçalo REIS : "I'm very happy with these two latest victories. I would never have been able to claim the highest step of the podium against riders like FREEMAN and HOLCOMBE, or the others. So I'm really happy that with these new categories, even amateur riders can compete on routes undertaken by world class riders – and we're able to claim podiums!"
Mathias VAN HOOF : "I'm thrilled with this double win, and without FLOCKHART riding, it allowed me secure a top three spot in the final Open 4-Stroke standings. I didn't expect that at all. I came here just wanting to confirm my place in the Top 5 and I'm leaving with 3rd, what more could I ask for?"
Final Classification:
Open 2-Stroke: 1. Gonçalo REIS 160pts ; 2. Benet GOMEZ 132pts; 3. Nico RAMBOW 95pts; 4. Jorge PARADELO RODRIGUEZ 87pts; 5. Maik SCHUBERT 78pts…
Open 4-Stroke: 1. Tom ELLWOOD 152pts; 2. Robert RIEDEL 138pts; 3. Mathias VAN HOOF 126pts; 4. Fraser FLOCKHART 126pts; 5. Rodrigo BELCHIOR 68pts…
Open Senior: 1. David KNIGHT 160pts; 2. Werner MÜLLER 130pts; 3. Andrea BELOTTI 128pts; 4. Patrik ANDERSSON 102pts; 5. Enrique VEGA GONZALEZ 90pts…