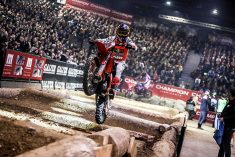 In the first race, the SuperEnduro veteran shot out of the blocks but found himself behind Husqvarna rivals Billy BOLT (GBR-Husqvarna) and Alfredo GOMEZ (ESP-Husqvarna), who both made a great start to the heat. However, they remained under constant pressure from the factory KTM rider. At the halfway point, BOLT, who had got into a strong lead at the end of the first lap, made a series of errors which threw him off guard. The young Brit then suffered a big crash on the 'bridge section.' Stunned and suffering pain, he saw BLAZUSIAK slip away from his grip. Alfredo GOMEZ (ESP-Husqvarna) put his bike in 2nd place after a tussle with Jonny WALKER (GBR-KTM). While WALKER himself was ready and willing to grab 3rd place in the race, after doing an absolutely incredible job to recover from the back of the field after a first corner crash. BOLT came over the line in 4th despite feeling the effects of his heavy fall.
In Race 2, with its 'reverse grid' format, it was once again BLAZUSIAK who lead proceedings after a first corner pile-up involving GOMEZ and WALKER. But BOLT was soon on the back tyre of the Pole, and the two were neck and neck. BOLT shot into the lead after a heavy landing for BLAZUSIAK. But the 'King of SuperEnduro' remained calm and on the 4th lap, BOLT had another huge moment on the bridge, losing a lot of time as well 1st place. Once BLAZUSIAK had regained the lead, he never looked back. BOLT and WALKER then became embroiled in a battle and they swopped places twice before the finish line, with the young Husqvarna rider snatching second from the KTM rider.
BLAZUSIAK came into the last race claiming that he'd keep an eye on the points and not necessarily go 'all out' for a race win. But as soon as the gate dropped, Taddy slotted straight into the holeshot. BOLT tangled with his teammate, GOMEZ, as the pair watched WALKER slot into 2nd place. The two Husqvarna riders lost a lot of time, allowing BLAZUSIAK to cultivate a big lead. The every fiery BOLT fought hard with WALKER for the remainder of the race, with the British rivals exchanging blows and both committing errors. And as Jonny went down on the last lap, Billy saw his chance to snatch 3rd in the race and 2nd overall on the night. The 6-time World Champion, BLAZUSIAK, made it look easy as he crossed the finish line in first for the third time of the night. He now leads the championship by 11 points ahead of Billy BOLT. Alfredo GOMEZ and Jonny WALKER leave Riesa tied for 3rd, 30 points down on BLAZUSIAK.
It's also worth pointing out the strong performance from South Africa's Blake GUTZEIT (KTM) who took two 4th place finishes in the SachsenArena.
Junior: A Hard-Fought Hat-trick for CULLINS
After taking an impressive overall victory on his SuperEnduro debut in Poland, America's Ty CULLINS (TM) made it his mission to win all three races in Germany. However, he made it very tough for himself with several errors which saw him plummet down the field. In the first race he bogged the start and had to carve through to the front, achieving the lead only on the penultimate lap. It was a similar story in Race 2, the 'reverse grid', as he lost places in the early laps. But in the third and final race of the night he lead virtually from start to finish. The young American has emphatically shown he has the fight and skill to work his way through a big pack of other riders. He took overall victory ahead of impressive home favourite Leon HENTSCHEL (GER-Husqvarna) and France's Adrien JACON (FRA-KTM)
After this hectic evening, CULLINS increases his lead to 15 points over HENTSCHEL. While JACON is 3rd, 30 points down.
FIM- EUROPE: An Exciting Night.
The European class saw much closer racing than we witnessed in Poland, where Sweden's Magnus THOR (SWE-Husqvarna) dominated. In the first race the Husqvarna rider took the holeshot but was hunted down by a hungry Sonny GOGGIA (ITA-Beta), who closed the gap to just 4 seconds before getting stuck in the logs and allowing the Swede to take the win. But THOR's luck ran out in Race 2 as he made a mistake on the bridge on the first lap. GOGGIA saw his chance and shot straight to the front of the pack, winning by a huge margin and taking the overall victory. A strong Marco PFEIFER (GER-KTM) pleased the Germany fans with 2nd overall, while Magnus THOR (SWE-Husqvarna) held onto his points lead by finishing 3rd on the night. Although he is now just 4 points ahead of Sonny GOGGIA and Miha SPINDLER (SLO- KTM).
What They Said:
Taddy BLAZUSIAK: "I think I now know the definition of a perfect night! I scored 62 points out of a possible 63. Everything went perfectly, and I really like this track. I must admit that this evening I owe a lot of my success to my starts. I have 15 years of experience and it paid off tonight. I am really happy to be back at the top of the championship. Now we have to keep this pace for the rest of the season, it won't be easy!"
Billy BOLT: "I lost the red 24MX Leader Plate tonight but frankly, considering how I rode, I didn't deserve to keep it. I made far too many mistakes and I attacked too much, I think because I really liked the track and I was excited to ride. My body will be sore tomorrow morning because that crash was a big one, but as of Monday I go back to work and aim to retake the title lead."
Jonny WALKER: "I'm angry tonight because, despite getting my first podium of the season, I think I missed an opportunity to do much better. I used a lot of energy in the first two races to try to get back on the podium. I ran out of juice in the heat. But it is reassuring all the same to see that I have the rhythm now, so I'll hope to convert that into a victory next time out in Spain."
Prestige Class:
Finale 1 : 1. Taddy BLAZUSIAK ; 2.Alfredo GOMEZ; 3.Jonny WALKER; 4.Billy BOLT ; 5.Pol TARRES
Finale 2 : 1. Taddy BLAZUSIAK ; 2. Billy BOLT ; 3. Jonny WALKER; 4.Blake GUTZEIT; 5. Pol TARRES
Finale 3 : 1. Taddy BLAZUSIAK ; 2.Alfredo GOMEZ; 3.Billy BOLT ; 4. Jonny WALKER; 5. Blake GUTZEIT
Provisional classification : 1. Taddy BLAZUSIAK 117pts ; 2. Billy BOLT 106 pts ; 3. Alfredo GOMEZ 87pts ; 4.Jonny WALKER 87 pts ; 5. Blake GUTZEIT 60pts.
Junior Class :
Finale 1 : 1. Ty CULLINS ; 2. Adrien JACON; 3.Leon HENTSCHEL; 4. Isaac DEVOULX ; 5. Dominik OLSZOWY
Final 2 : 1. Ty CULLINS ; 2.Fabien POIROT ; 3. Leon HENTSCHEL. ; 4. Adrien JACON; 5. Dominik OLSZOWY
Finale 3 : 1. Ty CULLINS ; 2. Leon HENTSCHEL ; 3. Fabien POIROT; 4. Adrien JACON ; 5. Teodor KABAKCHIEV.
Provisional Classification : 1. Ty CULLINS 112 pts ; 2. Leon HENTSCHEL 97 pts ; 3. Adrien JACON 82 pts ; 4.Teodor KABAKCHIEV 71pts ; 5. Isaac DEVOULX 45pts…
FIM-Europe Class:
Finale 1: 1. Magnus THOR ; 2. Miha SPINDLER ; 3. Pascal SPRINGMANN ; 4. Thomas SCHLEY; 5. Sonny GOGGIA
Finale 2: 1. Magnus THOR ; 2. Sonny GOGGIA ; 3. Miha SPINDLER ; 4. Pascal SPRINGMANN ; 5. Kacper BAKLARZ
Provisional Classification: 1. Magnus THOR 69 pts ; 2.Sonny GOGGIA 65 pts ; 3. Miha SPINDLER 51 pts; 4 Pascal SPRINGMANN 50 pts; Alessandro AZZALINI 37 pts