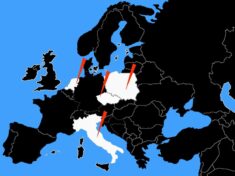 De VOORLOPIGE data voor het EK 2021 zijn vandaag bekend gemaakt. Voorlopig omdat er nog geen WK kalender is en die krijgt altijd voorrang. Dat zal ook nog even duren want de FIM is op zoek naar een nieuwe promotor. ABC (Blanchard) heeft geen contract verlenging gekregen. In 2021 hoopt de FIM een nieuwe promotor te selecteren en in dat jaar gaan ze het eerst zelf trekken met de organisatoren in de diverse landen.
Lees hieronder het FIM-Europe persbericht:
FIM Europe: Enduro 2021 – save the place – care for the day
Even though there will be no more European Championship Enduro competitions this season, we are already planning for next year.
Fortunately, we were able to continue the cooperation with most of the organizers.
The Netherlands, the country where we have already had a spectacular final in 2016, is a new addition. The new organizer, the Motoclub "M.C.N.H." in Hellendoorn is only 30 km north of the former venue.
So the venues are fixed, but the dates could still change, if there is an overlap with other championships.
More information and schedules, results and links, there are always up to date and right on the official website:
http://european-enduro.com/
Dates 2021
17th/18th of April          Castel di Tora / Italy (www.italianoenduro.com/)
                                                           www.Facebook.com/MotoclubValturano)
26th/27th of Juni                 Kielce / Poland (www.ktmnovi.pl)
7th-9th of August                 Plasy / Czech Republic (www.facebook.com/kpenduro.klub)
1st-3rd of October                  Hellendoorn / Netherlands (www.mcnh.nl)