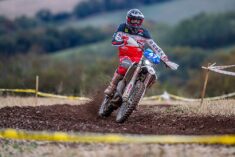 After a dusty first day, torrential rains over night on Saturday gave a whole different flavour to Sunday's proceedings. Despite not being muddy, the three tests had nevertheless changed… although that didn't change anything for the top riders, who continued their quest for the top.
Once again, Steve HOLCOMBE (GB – Beta) had to watch his back at the end of the day when both Andrea VERONA (I – TM) and Brad FREEMAN (GB – Beta) closed to within 16 seconds of him. HOLCOMBE almost lost all his hard work on the last test when his two pursuers were very hot on his heels. But the Factory Beta rider managed to take another slim victory, just 3 seconds ahead of Brad FREEMAN (GB – Beta)!
Just like Day 1, the 2019 EGP World Champion took a while to get into the groove and once again narrowly missed out on a win. This is something he will have to sort out before next weekend in Italy. However, despite being out of the Top 3 for the majority of the day FREEMAN was still able to grab second place, proof of his strength of character. As yesterday, Andrea VERONA (I – TM) took 3rd place on the EGP podium. The Italian Senior class rookie could have taken advantage of HOLCOMBE's drop in power to get his first victory in the premier class but a fall in the very last Champion Enduro Test of the weekend deprived him a win and even 2nd place!
Behind the leading trio, Jaume BETRIU (E – KTM) had a very good race. In the overall lead at the end of the first lap, the Catalan has been out of Enduro for a while to focus on the Dakar Rally, but he clearly hasn't lost any of his speed during his time off, taking a great 4th place.
Fourth on Day 1, France's Loïc LARRIEU (TM) took another Top 5 to the detriment of Danny MCCANNEY (GB – Honda).
A special mention again goes to Jérémy TARROUX (F – Sherco), who managed 7th place, and for Belgium's Senior class rookie, Antoine MAGAIN (Sherco – 9th) as well as Marc SANS SORIA (KTM – 10th).
New Day, Same Winners!
In Enduro 2 HOLCOMBE took another victory over Loïc LARRIEU (F – TM) and Danny MCCANNEY (GB – Honda). Matteo CAVALLO (I – Sherco) and Alex SALVINI (I – Honda) completed the Top 5.
In Enduro 1, we also find the same winner from the day before in the form of the 2019 Junior World Champion, Andrea VERONA. TARROUX was next up with Thomas OLDRATI (I – Honda) 3rd. The last two places in the Top 5 went to Antoine MAGAIN and Christophe CHARLIER (F – Beta).
On the E3 side, the same story goes with FREEMAN beating Jaume BETRIU. After a great day of racing, Marc SANS SORIA snatched the last step of the podium from Davide GUARNERI (I – TM) while Cristobal GUERRERO (E – Beta) finished 5th …
Over in the closely contested Junior class, Théo ESPINASSE (F – Sherco) once again made life difficult for all his competitors with another win. He will head to Italy next weekend with the Junior leader's plate! He finished more than 27 seconds ahead of his Sherco Factory team-mate, Hamish MACONALD (NZ) and Matteo PAVONI (I – Beta Boano). In difficulty at the start of the day, the Australian Wil RUPRECHT (AUS – Beta Boano) made an explosive comeback on the last lap but he was far too far from the leading trio to see a podium! A third Beta Boano rider brought up the rear of the Top 5 in the form of Lorenzo MACORITTO (I). Recognised as two of the best teams for bringing on young talent, Sherco Factory and Beta Boano took the lion's share in the under 23 years classes…
ESPINASSE therefore also took the double in J2 ahead of Hamish MACDONALD and Matteo PAVONI while Lorenzo MACORITTO won Junior 1 against Roni KYTÖNEN (SF – Honda) and the Brazilian Bruno CRIVILIN (Honda).
First Victory For Fantic
This time around, Jed ETCHELLS (GB – Fantic) did not falter like the day before and therefore took his very first Youth 125cc victory at the end of a well-rounded day. The rookie Brit has already given a first victory to Fantic and the D'Arpa Sicilia Racing Team who make their World Championship debut this year! ETCHELLS kept Sergio NAVARRO (E – Husqvarna) at bay by more than 26 seconds. Third place was occupied by Claudio SPANU (I – Husqvarna). On the podium the day before, Harry EDMONDSON (GB – Fantic) took a nice 4th position while Hugo SVARD (SF – Fantic) placed a third Fantic in the Top 5!
Finally, in Champion Lubricants Enduro Open World Cup, Gonçalo REIS (P – KTM) continues to dominate the Open 2-Stroke category ahead of Robert FRIEDRICH (CZ – KTM). While Loris GUBIAN (F – Sherco) secures a second podium.
In Open 4-Stroke, things were unchanged with Damiaens DIETGER (KTM) as the winner, with Mathias VAN HOOF (Husqvarna) 2nd, and Benet GOMEZ (E – Honda) 3rd.
In the Seniors category, we saw a shake up as Italy's Duccio GRAZIANI (Beta) took his first victory of the season ahead of the France's Arnaud ADAM (Honda) and Spain's David MARTINEZ CORBALAN (KTM).
Junior
Another fantastic day of battles and brilliant riding means this Acerbis Grand Prix of France hosted by the Réquista Moto Sport club has been a successful season opener for the Borilli EnduroGP World Championship! We'll be back next week for Round 2, in Spoleto in Italy.
What They Said:
Steve HOLCOMBE : "It would be a lie to say that I'm not happy to be leaving France with the EnduroGP leader's plate and two great victories. But I still have a lot of things to sort out; during the last special I wasted too much time trying to secure the win and not crash, and it almost cost me the victory again. But it's also reassuring, it means that I still have work ahead of me and then I can be even faster…"
Brad FREEMAN : "Once again, I'm angry! When I see the last lap that I put together, it drives me crazy that I didn't find the rhythm at the start of the day! But in the provisional Championship standings, Steve is not too far away and it's only the start of the season. Anyway, I'm very happy with my double win in E3 but I have to look for more in EnduroGP!"
Andrea VERONA : "I am much more satisfied with today than yesterday! I fought all day with HOLCOMBE for the victory, but unfortunately my fall in the very last special of the day cost me a potential victory and also second place. But after all, I was not really expecting to achieve the double in E1 and also get so close in EnduroGP, so I'm really pleased!"
Théo ESPINASSE : "Yesterday I won by 15 seconds, today by almost 30 … not bad at all for an injury comeback! I am very happy with myself and with all the work done by the CH Racing team, which has been exceptional all weekend."