After a little more than a month with Enduro action, and despite the health situation linked to Covid19, the FIM Borilli EnduroGP World Championship is back on track this weekend for the 3rd and penultimate round of this very special 2020 season!
More Than 10 Years Later…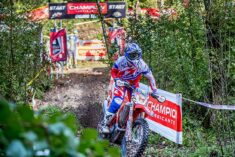 Marco de Canaveses and Motor Clube Marco have been chosen by the FIM, ABC Communication and the FMP (Portuguese Federation) to host the traditional Portuguese EnduroGP. On this occasion, the organiser have concocted a very technical course which will be ideal for the best riders in the world! The competitors will tackle a 60-kilometre lap that they will have to cover three times over the two days of racing. They will start this lap with the Champion Lubricants Enduro Test before arriving at the first time check! The second part of the lap will involve the Technomousse Xtreme Test and finally the Akrapovic Cross Test.
Note that there will be no Akrapovic Super Test on Friday evening because of Covid safety standards!
Marco de Canaveses, a city located in the District of Porto, is a Mecca of Lusitanian Enduro and even if the event will be "closed doors" with no crowds throughout the weekend, no doubt the Motor Clube Marco will go all out to welcome the EnduroGP paddock!
FREEMAN On A Charge?
After the first two GPs contested in France and Italy in September, Steve HOLCOMBE (GB – Beta) is in the lead before the home stretch! The 2019 Vice-Champion is 6 points ahead of his compatriot, teammate, and above all great rival for the title, Brad FREEMAN (GB – Beta).
So it seems that FREEMAN is already under obligation to win in order not to fall too far behind HOLCOMBE before the final round next weekend. This third round will therefore be very important for the duo from the Beta Factory team!
Behind them, the battle will rage between Loïc LARRIEU (F – TM), Andrea VERONA (I – TM), Thomas OLDRATI (I – Honda) and Jaume BETRIU (E – KTM) to find themselves in a favourable position for the final podium.
Also watch out for Danny MCCANNEY (GB – Honda) who seemed more and more at ease on his 450 as the days of racing progressed.
For their part, Antoine MAGAIN (B – KTM), Christophe CHARLIER (F – Beta) and Matteo CAVALLO (I – Sherco), will give everything to go for a podium in the race!
Note the absence of Alex SALVINI (I – Honda) while it is rumoured that Josep GARCIA (E – KTM) could well make his return to EnduroGP during this Portuguese back-to-back …
In E1, the duel between VERONA and OLDRATI will be intense! The two Italians are on an equal points and every second will count. Antoine MAGAIN, Christophe CHARLIER, Eero REMES (SF – Yamaha) and Alex SNOW (GB – Honda) could also put on a good show to secure the other three places in the Top 5!
On the E2 side, who will be able to stop Steve HOLCOMBE's domination? The obvious choices are Loïc LARRIEU, Danny MCCANNEY and Matteo CAVALLO but these three strong factory riders will have to pull out all the stops in order to keep a slim hope of a title…
And in E3, Brad FREEMAN clearly seems untouchable and we will therefore have to concentrate on the race for the two remaining places on the podium. This should be played out between Jaume BETRIU, Antoine BASSET (F – Beta), Davide GUARNERI (I – TM) and Enric FRANCISCO (E – Sherco).
Heading For An ESPINASSE – MACDONALD Duel?
Despite the clear domination of Théo ESPINASSE (F – Sherco), Hamish MACDONALD (NZ – Sherco) has managed to stay in contact, at only 4 points behind his teammate in the Sherco CH Racing team. The Junior category could well be duel between the two "blues", but they will still have to be wary of the performances of Roni KYTÖNEN (SF – Honda), Matteo PAVONI (I – Beta Boano), Wil RUPRECHT (AUS – Beta Boano) or Ruy BARBOSA (CL – Husqvarna) who are all capable of top results…
Over in J1, the KYTÖNEN – BARBOSA battle should keep everyone on their toes, while Lorenzo MACORITTO (I – Beta Boano) and Bruno CRIVILIN (BR – Honda) will hope to claim the last place on the podium. In J2, ESPINASSE vs. MACDONALD will once again be on the agenda!
Finally, in Youth 125cc, the quartet of Jed ETCHELLS (GB – Fantic), Sergio NAVARRO (E – Husqvarna), Claudio SPANU (I – Husqvarna) and Harry EDMONDSON (GB – Fantic) should again offer us some more thrilling battles this weekend as they fight it out for the Under 20 crown!
This third round of the FIM Borilli Enduro World Championship promises to be a exciting and tough race, which will see title battles become more and more intense. Despite the strange circumstances and lack of public, the stars of the discipline will give everything to achieve their goal; a World Champion title!
Practical Info:
– Marco de Canaveses;
– 55km East of Porto;
– Saturday and Sunday 7 & 8 November: Start 09:00 GMT – Finish approx. 16:30 GMT;
– Organisation : Motor Clube Marco;
– Website: www.endurogp.org;
– Course: 60km – 3 laps;
– Airport: Porto
– GPS Points:
– Technomousse Xtreme Test: 41°07'55.2″N 8°09'45.8″W
– Champion Enduro Test: 41°10'22.6″N 8°10'05.2″W
– Cross Test: 41°07'07.9″N 8°13'01.4″W
– Paddock: 41°10'56.2″N 8°09'14.0″W