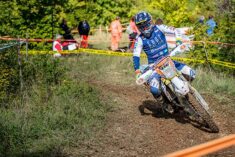 The first two rounds of this second season of the Champion Lubricants Enduro Open World Cup were met with great success in all three categories, and this weekend, everyone will meet again in Marco de Canaveses for the third round of the FIM Borilli Enduro World Championship… let's check out the news!
In Open 2-stroke, the current leader Gonçalo REIS (P – KTM) will be at home, which will potentially give him even more of on advantage than usual. But behind him, three riders are also ready to fight for the podium. Indeed, only four points separate Robert FRIEDRICH (CZ – KTM), Samuel DAVIES (GB – KTM) and Gonçalo SOBROSA (P – Beta) in the standings behind REIS.
Portugal's Frederico ROCHA (Husqvarna) and Ricardo WILSON (Beta) will try to play spoilsport and beat their compatriot on home turf.
Meanwhile, Italy's Filippo GRIMANI (Beta), Spain's Marti ESCOFET VALLDOSERA (KTM) and Chile's Tania GONZALEZ (Fantic) will be keen to shine on their first participation in Open 2-Stroke!Open 4-stroke: Who will take the advantage between DIETER and VAN HOOF?
As for the Open 4-stroke, it's all to play for between the two Belgian riders Damiaens DIETER (B – KTM) and Mathias VAN HOOF (B – Husqvarna); whoever wins this weekend will have one hand on the trophy before the final round of the year.
But keep an eye out for Benet GOMEZ (E – Honda), Jorge PARADELO RODRIGUEZ (E – KTM) and Andrea BELOTTI (I – KTM) who are all keen to climb onto the podium in Marco de Canaveses.
Note also the participation of Mireia BADIA (E – Husqvarna) as she prepares for the Women's World Cup the following weekend.
Finally, in the Open Senior category, Duccio GRAZIANI (I – Beta) leads the way ahead of David MARTINEZ CORBALAN (E – KTM) and Patrik ANDERSSON (S – Yamaha). The competition is set to be fierce between them, and all the more so as former EnduroGP rider, Alessio PAOLI (I – Husqvarna) will step into the mix.
The Open Senior should therefore be very interesting with the addition of Enrique VEGA GONZALEZ (E – KTM), who did well in the class last year.
The three categories of the Champion Lubricants Enduro Open World Cup could well offer us a lot of excitement again this weekend! See you in Marco de Canaveses for the third round of 2020!