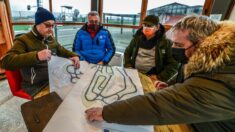 With the opening of registrations, the countdown has begun for the 95th edition of the FIM International Six Days of Enduro (ISDE) to be held in Italy. After the 12-month delay due to the global pandemic, the organisation of the World Enduro Team Championship has officially restarted and is now scheduled to take place in Rivanazzano from 30 August to 4 September.
Once the route and the forty participating nations have been confirmed, a completely new cross-country test will be revealed, specially created within the Cervesina circuit. With the announcement that rider and team registrations are officially open from 15 February, organisation will restart exactly from the point where it was stopped due to last year's force majeure.
The goal is to follow a plan that will provide total safety, and that will be in compliance with all international protocols, in order to deliver an unforgettable edition of the FIM International Six Days of Enduro, which will be the eleventh time since 1913 that this historic event has been organised in Italy.
The date is set from 30 August to 4 September between Lombardy and Piedmont, between the Oltrepo Pavese and Valcurone, on terrain that promises to offer a great challenge and create a show worthy of the highest World competition for enduro teams.
The work to get to that highly anticipated opening day, with every defined detail, has started at full speed with Giorgio Bandoli, Valter Carbone and Edoardo Zucca, the three men at the head of the organising committee, committed to fine-tuning the programme in their respective fields of expertise.
"The shift of a year brings with it an important novelty," begins Valter Carbone, head of relations with the federations and the cross track. "The transfer of the spectacular cross race that will conclude the event, from the international circuit of Ottobiano to that of Cervesina. We have in fact decided to create a provisional circuit inside the circuit (auto-moto), a choice dictated primarily by the shorter distance from the Rivanazzano headquarters, which therefore requires shorter transfers. To give life to the new track, which will also include stretches on asphalt as it did in the golden years of the competition, we chose Armando Dazzi, an Italian who is considered one of the World's leading experts in the construction of supercross and indoor tracks. The track will have a length of about one thousand six hundred metres and will begin to take shape from the middle of June."
As for the paddock and logistics, it is Giorgio Bandoli who speaks. "We have structured the four teams that will plot the nine special tests and have started organising the distribution of the technical paddock spaces along the one thousand three hundred metres of asphalt at Rivanazzano airport. We know that we can count on about forty nations being present, perfectly in line with the forecasts of twelve months ago. It will remain to be clarified whether the public will be present, although in any case we will be ready to welcome everyone under the conditions that will be in force at the end of August."
The institutional aspects and those related to marketing are the responsibility of Edoardo Zucca. "We are awaiting instructions regarding safety, but we are moving to define the sponsors of the event and to resume negotiations with local authorities and the mountain communities. We were already well underway with defining the route a year ago, and this confirmation allows us to work with relative peace of mind. We will also be attentive to respect the territory and we will activate an operation to restore the paths, without limiting ourselves to those of transfers and special stages. In fact, the plan incorporates the reopening of forgotten tracks, for the benefit of mountain communities and hikers."