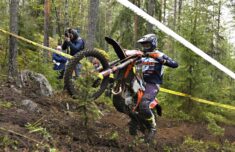 Aanvullend reglement. After a one-year break from the championship, the start of the European Enduro Championship is planned for 17/18 April in Castel di Tora, Italy. All the official permits have been obtained and the hygiene concept has already proven itself at the previous rounds of the Italian championship.
The Motoclub Valturano had the misfortune of not being able to hold the race last year, so the club is all the more motivated for this season: There are three different special tests on the 60 km circuit, which is ridden three times – a 7.5 km enduro test, a 4.5 km cross test and a challenging 1.5 km extreme test.
Rider registration for the competition is not yet closed, so more registrations are still coming in daily from all over Europe.
In sporting terms, it will be very exciting this season, because after the year of involuntary break in the European Championship, there are hardly any reigning European champions from 2019, but there are some promising talents from the individual countries at the start.
Especially the 125 cm class with the youngest riders has again attracted strong interest from the participants
More information and schedules, results and links, there are always up to date and right on the official website:
http://european-enduro.com/
Dates 2021
17th/18th of April Castel di Tora / Italy (www.italianoenduro.com/)
www.Facebook.com/MotoclubValturano)
7th-9th of August Plasy / Czech Republic (www.facebook.com/kpenduro.klub)
18th/19th of September Kielce / Poland (www.ktmnovi.pl)
1st-3rd of October Hellendoorn / Netherlands (www.mcnh.nl)