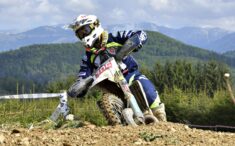 Only a few days to go until the start of the European Enduro Championship in Castel di Tora, Italy. We can already send you the list of registered riders in advance. (See attachment)
In addition, we would like to draw your attention to the fact that there will be live timing on both days of the weekend: At http://enduro.ficr.it/  you can then select the competition. The direct link http://enduro.ficr.it/cie.htm  will be activated shortly before.
Find the paddock in Castel di Tora nearby the sports-center at "Via dello Sport" at: Lat. 42.205822 Long. 12.947609
More information and schedules, results and links, there are always up to date and right on the official website: http://european-enduro.com/
Picture reference: the defending champion in the 250cc two-stroke class, Italian Maurizio Micheluz, will also be on the grid at his home event.