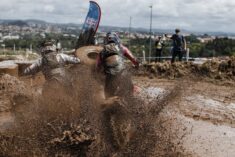 Porto, Portugal – May 9, 2021 — Britain's Billy Bolt topped the podium at Extreme X Lagares, round one of the FIM Hard Enduro World Championship.
In what was a shortened schedule of racing due to last-minute covid restrictions, Rockstar Energy Husqvarna Factory Racing's Billy Bolt picked up where he left off following Saturday's qualifying to take the top step of the podium in Sunday's Endurocross.
He was joined on the podium by Red Bull KTM Factory Racing's Manuel Lettenbichler, with Bolt's teammate Graham Jarvis completing the top three.
Following the announcement that Sunday's originally planned Main Race was cancelled and the event could only continue behind closed doors at the Endurocross venue, following heavy overnight rain it was mutually agreed by the event organiser and the FIM that championship points would not be awarded at round one, but that racing would continue.
Fast out of the gate for Final 1, Husqvarna rider Bolt charged his way to victory, which he convincingly backed up in race two with another winning ride. Aiming for a hat trick of wins, an early crash in Final 3 derailed the Brit's ambitions. But with the overall win still for the taking, he powered his way back to second to earn the top step of the podium.
Behind Bolt, the battle for the remainder of the podium was tight. Despite a bad opening final and a subsequent eighth-place finish, Lettenbichler began to find his rhythm as the day progressed. Second in Final 2, he then delivered his best with victory in Final 3, finishing as overall runner-up to Bolt.
Despite an uneasy qualification on Saturday, it was Graham Jarvis who produced one of the surprise performances of the day. Proving himself a model of consistency, a trio of fourth place results earned him third overall behind Bolt and Lettenbichler.
Sherco Factory Racing's Wade Young was another rider to perform well in the Endurocross. Fast starting, he repeatedly placed at the sharp end of the results and thanks to a 4-3-5 scorecard earned fourth overall. Rounding out the top five was Rockstar Energy Husqvarna Factory Racing's Alfredo Gomez.
Billy Bolt: "After two good wins, the overall victory nearly got away from me in the final race, thanks to a couple of crashes. My gloves were muddy and it was hard to hang on and go fast. But I knew I had time to chip away and once I got into second I took it home for the overall win. Of course, we didn't get to race in the mountains like we wanted, but everyone made the best of the situation."
Manuel Lettenbichler: "It was sweet to win that final race. I had a good start and managed to hold off Billy at the end. I didn't know I got second overall until we finished so I'm super stoked about that. Despite everything, it turned into a fun day. Thanks to the organisers for keeping the ball rolling like they did."
Graham Jarvis: "After the news late on Thursday evening that the original event format wouldn't go ahead, I think everyone, especially the event organisers, made the best of a difficult situation. The mountains are more my style, so to be honest I've surprised myself with third overall. And I think I surprised a few others too. Getting to race today was a bonus and helped me get back into that racing mindset for the rest of the series."
Winfried Kerschhaggl – FIM Hard Enduro World Championship Series Manager: "We all, especially the local organiser, tried everything possible to deliver a valid alternative of a race after the cancellation of the originally planned main event. With the bad weather conditions adding to the complications already faced, the FIM Jury – based on my recommendation – decided to award no World Championship points for this event. This decision was based on the shared opinion that, despite the very best efforts of the organisers, what was left of the event was not a healthy and fair relation to the other events planned for the championship, and the defining character of these events. It's been a difficult weekend for many, but I want to thank the FIM Jury, and the riders who showed great respect to the organiser by racing on."
Extreme XL Lagares Overall Result
1. Billy Bolt (Husqvarna) 57pts, 2. Manuel Lettenbichler (KTM) 45pts; 3. Graham Jarvis (Husqvarna) 39pts; 4. Wade Young (Sherco) 37pts; 5. Alfredo Gomez (Husqvarna) 35pts; 6. Dominik Olszowy (KTM) 31pts; 7. Teodor Kabakchiev (Husqvarna) 28pts; 8. Mario Roman (Sherco) 26pts; 9. Taddy Blazusiak (GASGAS) 17pts; 10. Kevin Gallas (GASGAS) 15pts
Race 1
1. Billy Bolt (Husqvarna) 8 laps, 24:42.416; 2. Taddy Blazusiak (GASGAS) 25:31.549; 3. Wade Young (Sherco) 25:42.698; 4. Graham Jarvis (Husqvarna) 26:11.515; 5. Mario Roman (Sherco) 26:27.732…
Race 2
1. Billy Bolt (Husqvarna) 8 laps, 24:25.707; 2. Manuel Lettenbichler (KTM) 24:34.618; 3. Dominik Olszowy (KTM) 25:26.162; 4. Graham Jarvis (Husqvarna) 25:28.667; 5. Wade Young (Sherco) 25:37.090…
Race 3
1. Manuel Lettenbichler (KTM) 8 laps, 25:15.010; 2. Billy Bolt (Husqvarna) 25:30.575; 3. Alfredo Gomez (Husqvarna) 25:38.212; 4. Graham Jarvis (Husqvarna) 26:19.611; 5. Wade Young (Sherco) 27:07.924…