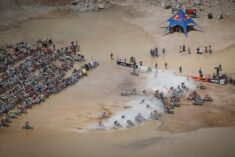 Wels, Austria – May 10, 2021 — Due to the ongoing complications felt by the Covid pandemic, the running of the Red Bull Erzbergrodeo has been cancelled for 2021.
Ready to form round two of the FIM Hard Enduro World Championship, WESS GmbH with disappointment, but mutual understanding, learn that Austria's Red Bull Erzbergrodeo won't take place this year.
Long regarded as one of the pinnacles of Hard Enduro races in the world, it is both a rider and fan favourite for many people.
But due to the complexities of organising an event of this magnitude under such tight Covid restrictions, it's not possible to deliver a race to the same high standard of what has gone before.
Organisers had in fact worked on several formats and scenarios to make the race happen, but new COVID-19 regulations and guidelines published by the Austrian federal government, left them no alternative but to cancel for 2021.
WESS GmbH would like to thank the event organisers for every effort made in trying to make Red Bull Erzbergrodeo a reality this year and look forward to bigger and better times at the Iron Giant in 2022.
As part of the Red Bull Erzbergrodeo COVID-19 guarantee, all registered participants will be reimbursed their full entry fee without any deductions. The same applies to all visitors who have already purchased an entry ticket or a VIP ticket for the 2021 event. More information will be published shortly on redbullerzbergrodeo.com.
Plans are already in place for the 2022 Red Bull Erzbergrodeo to take place on June 16-19.
The FIM Hard Enduro World Championship continues with round three, the Abestone Hard Enduro in Italy on July 10-11.
Winfried Kerschhaggl – FIM Hard Enduro World Championship Series Manager: "Naturally it's disappointing to see Red Bull Erzbergrodeo cancelled for another year, but having spoken closely with the organisers, it's understandable. It goes without saying that this race is a favourite among riders and Hard Enduro fans, and will be truly missed for 2021. Nobody expected to see the Iron Giant lie quiet for two years. But all willing, we will be back in 2022. Looking ahead to the championship we have a lot of exciting racing still to take place, especially round three at the all-new Abestone Hard Enduro in July, which is quickly followed by the iconic Red Bull Romaniacs."
2021 FIM Hard Enduro World Championship calendar
Round 1: Extreme XL Lagares – Portugal, May 7/8/9
Round 2: Red Bull Erzbergrodeo – Austria, June 3/4/5/6
Round 3: Abestone Hard Enduro – Italy, July 10/11
Round 4: Red Bull Romaniacs – Romania, July 27/28/29/30/31
Round 5: Red Bull TKO – USA, August 13/14/15
Round 6: HERO Challenge – Poland, September 11/12
Round 7: Hixpania Hard Enduro – Spain, October 1/2/3
Round 8: GetzenRodeo – Germany, October 29/30