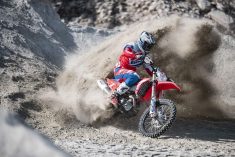 Who will win the coveted EnduroGP title in 2021? That's the question everyone wants answering as the 2021 Borilli FIM EnduroGP World Championship fires into life this coming weekend in Marco de Canaveses, Portugal. The first of six, two-day events that will take competitors from Portugal to France via Italy, Estonia, Sweden, and Germany, only when the 12 days of gruelling enduro competition have been completed will we know if anyone has been able to dethrone defending champion Steve Holcombe (Beta).
Recognising the champion of champions, the EnduroGP World Championship title will again be awarded to the season's best performing rider, irrespective of their class or bike capacity. While for many, simply winning an Enduro1, Enduro2, or Enduro3 title would signify a hugely successful year, for the best-of-the-best it's all about EnduroGP World Championship glory!
Steve Holcombe (Beta) was the rider who emerged victorious as the 2020 EnduroGP World Champion, at the end of a dramatic final round. Switching to a four-stroke after countless successful world championship campaigns on two-stroke machinery, Steve came out swinging and topped both days of the opening round in France. Going 2-1 at round two in Italy, Steve held firm as EnduroGP series leader as the championship entered its final two-event run in Marco de Canaveses, Portugal.
The penultimate round of the 2020 series saw Steve finish with a win on day one and in third overall on day two, setting things up for a thrilling final round. Wrapping up the Enduro2 World Championship at the end of day one, in finishing second in EnduroGP on the final day of the series, the Brit struck gold, earning himself a seventh Enduro World Championship title.
Starting 2021 in great form, Holcombe, who will also compete in the Enduro2 class, will face a number of EnduroGP title challengers, most notably Josep Garcia (KTM), team-mate Brad Freeman (Beta), Wil Ruprecht (TM) and Andrea Verona (GASGAS). With Thomas Oldrati (Honda) and McCanney brothers Danny (Sherco) and Jamie (Husqvarna) also focused on success, competition is set to be fierce.
2021 sees both Josep Garcia and KTM return to the EnduroGP World Championship. Competing in the final two rounds of the 2020 series, and signing off with a win on the final day in Portugal, Garcia is hungry to win and re-establish himself as enduro's number one rider in 2021.
Another rider looking only at the top step of the EnduroGP podium is Brad Freeman (Beta) – the 2019 class winner. Leading the two-stroke charge and favourite to win in Enduro3, in taking on Enduro2 class rivals Holcombe and Garcia, the Brit will be hoping to deliver his very best form over the 12 days of competition.
Producing impressive results in the Italian Enduro Championship and having gained valuable world championship experience in recent years, Wil Ruprecht (TM) has shown that he too has what it takes to win in 2021. Competing in Enduro2 alongside Holcombe and Garcia, the Australian will lead TM's title hunt as he goes after EnduroGP top honours.
The third category champion of 2020 alongside Holcombe (Enduro2) and Freeman (Enduro3), Andrea Verona (GASGAS) will uphold Enduro1 honours in the EnduroGP title fight as he looks to challenge for the coveted overall title while defending his E1 crown. From Enduro Youth to Enduro Junior to Enduro1 champion in recent seasons, Verona's next target is to challenge for EnduroGP honours.
In the Enduro Women class, most expect a thrilling three-way battle to decide who will ultimately walk away with the title. Up first is two-time defending champion Jane Daniels (Fantic). The rider to beat in 2019 and 2020, Jane is fired-up and looking to secure a hat-trick of wins.
Ready to improve on her third-place results in both the 2019 and 2020 Enduro Women's World Championship, Mireia Badia (GASGAS) will be gunning for Jane Daniels' title while also having to fend off former multi-time champion Laia Sanz (GASGAS), who returns to the series after many years of absence. Together, the Spanish duo will provide fierce competition for the Brit with a probable Daniels verses Sanz title fight expected to dominate the headlines in 2021.
Set to welcome riders back to competition, the GP of Portugal will see riders return to Marco de Canaveses, the very place that saw the 2020 Borilli FIM EnduroGP World Championship draw to a very wet, yet thrilling, conclusion.
Expected to be a lot hotter this time around, rain could again be the order of the weekend, ensuring two tough days of competition. Set to be a true, old-fashioned style race, the GP will feature three laps per day with four special tests – Super Test, Cross Test, Extreme Test and Enduro Test – ridden on each of the three laps.
Stay tuned to www.enduroGP.com throughout the weekend for championship updates and live results, and to @enduro_gp on Instagram for event story content.
2021 Borilli FIM EnduroGP World Championship calendar
Round 1: GP Portugal – Marco de Canaveses, June 18-20
Round 2: GP Italy – Edolo, June 25-27
Round 3: GP Estonia – Saaremaa, July 16-18
Round 4: GP Sweden – Skövde, July 22-24
Round 5: GP Germany – Zschopau, October 8-10
Round 6: GP France – Langeac, October 15-17