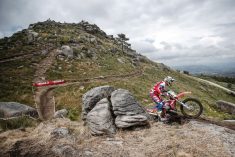 Britain's Brad Freeman (Beta) delivered a winning ride on the opening day of racing at round one of the 2021 BORILLI FIM EnduroGP World Championship in Portugal. Spain's Laia Sanz (GASGAS) made a triumphant return to the series, earning victory in the Enduro Women classification, while Lorenzo Macoritto (TM) and Harry Edmondson (Fantic) topped Enduro Junior and Enduro Youth respectively.
EnduroGP – Freeman claims top spot
The eagerly awaited 2021 BORILLI FIM EnduroGP series got underway in earnest today with host city Marco de Canaveses and its surrounding area producing a tough and demanding start to the season. With all eyes on the EnduroGP category, it was Britain's Joe Wootton (Husqvarna) who was first to top the time sheets by taking the AKRAPOVIC Super Test win on Friday evening.
But rolling out for the first test on Saturday morning, Brad Freeman was quick to get down to business, taking an early lead and posting the fastest time. While Freeman was up to speed, defending EnduroGP champion Steve Holcombe (Beta) was already on the back foot, losing 42 seconds to his rival following a costly mistake.
While Freeman controlled his lead at the front, Holcombe set about regrouping and with each test climbed his way back up the leaderboard. At the midway point of the day, Freeman held a 15-second advantage over Australia's Will Ruprecht (TM) in second, with Spain's Josep Garcia (KTM) third.
The afternoon saw Freeman go on to execute a perfect day and claim his first victory of the season. Digging deep, Holcombe worked hard to finally claim the runner-up result, ending his day 35 seconds behind his Beta teammate. In the fight for third, Garcia edged out Ruprecht for the final step of the podium.
"It was a good day, starting out by winning the first test and putting in a strong opening lap," told Freeman. "With a good lead early on I tried to balance how hard to push for the remainder of the day. I feel like I managed my lead well and remained strong and consistent throughout, I'm looking forward to tomorrow now."
Enduro 1 – Verona on winning form
In the Enduro1 class it was defending champion Andrea Verona (GASGAS) who set the pace with victory on day one. Davide Guarneri (Fantic) kept himself in touch to finish 25 seconds behind in second, while France's Christophe Charlier (Beta) held off Davide Soreca (Husqvarna) to prevent an Italian podium lockout.
Enduro 2 – Holcombe recovers to win
Already looking like the most fiercely contested category for 2021, Enduro2 was a battle of the titans with Holcombe, Garcia and Ruprecht swapping positions throughout. Ruprecht was the early pace setter, before Garcia worked his way to the front. But with Holcombe charging hard in the latter stages, it was the Beta rider who ultimately took first E2 honours of the year.
Enduro 3 – Freeman clean sweep
Topping the overall classification, Freeman also went on to comfortably secure the Enduro3 win. Unbeatable, the defending Enduro3 champion swept all 13 tests to win by 92 seconds. The battle for second position was a tighter affair, with Spain's Jaume Betriu (KTM) holding off Britain's Danny McCanney (Sherco) for the runner-up result. Jamie McCanney (Husqvarna) made his return to the Borilli FIM EnduroGP series with fourth in Enduro 3, while France's Antoine Basset (Beta) rounded out the top five.
Enduro Women – Sanz makes winning return
Making her first Enduro World Championship outing since 2017, Laia Sanz wasted no time in getting up to speed. The GASGAS rider showed straight away that she's aiming for a sixth Enduro Women world crown. Winning the AKRAPOVIC Super Test, she ended day one with a 50-second margin of victory over defending champion Jane Daniels (Fantic). Behind the leading duo Mireia Badia (GASGAS) took third.
"It felt perfect, but I wasn't expecting a result quite as strong as this," explained Sanz. "I think I was still asleep this morning, crashing and then struggling to get up to speed, but once I settled in, I had a good day. That was definitely a real enduro out there today – demanding tests that are rough and physical. I think tomorrow will be even harder!"
Enduro Junior – Italy shine
In Enduro Juniors, it was the Italian TM-mounted duo of Lorenzo Macoritto and Matteo Pavoni out front. While Pavoni kept his countryman honest, Macoritto had enough in hand to take the win. Finland's Roni Kytonen (Honda) joined them on the podium in third.
Enduro Youth – Fantic 1-2-3
The Enduro Youth category saw a close battle between Harry Edmondson and Sweden's Albin Norrbin (Fantic) for the overall win. Neck and neck across the 13 special tests, Edmondson held his teammate off by just six seconds after over 73 minutes of timed racing to seal victory. Making it a Fantic 1-2-3 on day one, Kevin Cristino joined them on the podium in third.