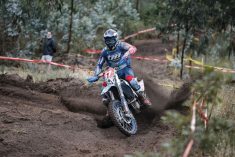 A new star emerged on day two of the 2021 BORILLI FIM EnduroGP World Championship in Portugal as Australia's Wil Ruprecht (TM) charged to his debut senior class victory. The tables turned in Enduro Women with Spain's Mireia Badia (GASGAS) coming out on top, while Italy's Matteo Pavoni (TM) and Sweden's Albin Norrbin (Fantic) secured top honours in Enduro Junior and Enduro Youth respectively.
EnduroGP – Ruprecht tops four-rider battle for the win
Clearly stepping forward as a serious 2021 EnduroGP title contender, Ruprecht landed his first EnduroGP career win, in what were challenging conditions for all riders in Marco de Canaveses. With a change in weather adding to the difficulty of the special tests, the young Australian kept his cool as he battled with Steve Holcombe (Beta), day one winner Brad Freeman (Beta), and Josep Garcia (KTM) throughout the day.
Topping two of the day's three Champion Enduro Tests, while limiting his mistakes on the slippery NERVE by JUST1 Extreme Test, the TM rider held on to claim a memorable win. Despite only one second separating the three riders entering the third and final lap, Freeman was unable to keep Ruprecht at bay and had to settle for the runner-up result.
Holcombe, who held the lead with two tests to go, lost out to Ruprecht and Freeman to end his day in third. With mistakes proving costly, Garcia dropped out of contention for a podium result on the final lap to finish fourth. In the fight for fifth, Spain's Jaume Betriu (KTM) held off Italy's David Guarneri (Fantic) to complete the top five.
"It's awesome to get my first EnduroGP win, I'm so happy with that," told Ruprecht. "Today was a tough day, the tests were so rough after day one. Everyone was on the limit today, pushing for the win. Winning in these conditions, against these riders, it's crazy. It will take a while for what's just happened to sink in. It's been a brilliant weekend and an incredible way to start the season."
Enduro 1 – Guarneri on winning form
Spurred on by his battle for fifth overall in EnduroGP, Guarneri used that momentum to ride clear for a convincing Enduro 1 class win. The Fantic rider was on flying form as he topped six of the day's 12 special tests. Unable to mirror his winning ride from day one, Andrea Verona (I-GASGAS) ended his day as runner-up, but 35 seconds behind Guarneri. Securing the final step of the podium, to make it an Italian 1-2-3, Samuele Bernardini (Honda) held off Belgium's Antoine Magain (Sherco) for third.
Enduro 2 – Ruprecht shines
The Enduro2 class once again saw another three-way battle for victory between Ruprecht, Holcombe and Garcia, with Ruprecht this time besting the trio. As the fight for the EnduroGP lead chopped and changed all day, so too did the lead in Enduro2 with Ruprecht finally pulling clear on the final lap to take the win over Holcombe and Garcia. Behind the top three, 2020 FIM Enduro Junior champ Hamish MacDonald (Sherco) took fourth, with Finland's Eero Remes (TM) fifth.
Enduro 3 – A Freeman masterclass
While the EnduroGP win just eluded him, Freeman comfortably dominated proceedings in Enduro3 for the second day running. As the fight for the overall victory took him further ahead of his class, the Beta rider topped all-but-one of the day's special tests, with only the first ACERBIS Cross Test getting away from him. Jaume Betriu secured the runner-up result again on day two, while Sherco's Daniel McCanney (GB) completed the podium. Enric Francisco (S-Sherco) and Jamie McCanney (GB-Husqvarna) rounded out the top five.
Enduro Women – Badia turns the tables
There was a turn of fortune in Enduro Women with Mireia Badia (GASGAS) breaking through for a surprise victory. While many expected day one winner Laia Sanz (GASGAS) to pick things up where she left off, it was not the case. With the weather proving a leveller, Sanz, Badia and Britain's Jane Daniels (Fantic) enjoyed a titanic fight for victory. In the end, the three were separated by only 14 seconds with Badia taking a two-second margin of victory over Daniels, with Sanz a further 12 seconds behind in third. Justine Martel (KTM) and Rosie Rowett (KTM) completed the top five.
"What a day!," told Badia. "It was a great battle all day between Jane, Laia and myself, so to win against these two is unbelievable. I think the ACERBIS Cross Test was my best asset and I felt most comfortable there."
Enduro Junior – Pavoni pushes forward
In Enduro Junior, it was Matteo Pavoni who rose to the fore. After his runner-up result on day one, the Italian found a little more speed to come out on top. In what proved to be a close battle, he edged out Finland's Roni Kytonen (Honda) by five seconds for the win. France's Leo Le Quere (Sherco) held off day one winner Lorenzo Macoritto (TM) for third. Spain's Sergio Navarro (GASGAS) took fifth.
Enduro Youth – Fantic clean sweep
Sweden's Albin Norrbin (Fantic) raced his way to the Enduro Youth class win. Finding an extra turn of speed, Norrbin had the measure of his teammate Harry Edmondson (Fantic) on day two to top the podium. Despite a very strong final lap, Edmondson couldn't reel Norrbin back in and had to settle for second. Making it another clean sweep for Fantic in Enduro Youth, Kevin Cristino was third. Albert Fontova (KTM) and Riccardo Fabris (Fantic) were fourth and fifth respectively.
The 2021 BORILLI FIM EnduroGP World Championship continues with round two, the ACERBIS GP of Italy, in Edolo on June 25-27.