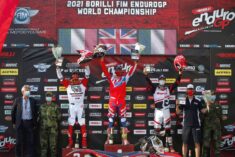 Brad Freeman (Beta) has fought back to win day two of the AIRMOUSSE GP of Sweden, round four of the Borilli FIM EnduroGP World Championship, in Skövde. After finishing third on day one, a determined effort from the Brit saw him fend off Italy's Andrea Verona (GASGAS) by four seconds, with Davide Guarneri (Fantic) placing third overall in EnduroGP.
It was double delight for Spain's Laia Sanz as she secured a day two win in the Enduro Women's category, while Lorenzo Macoritto (TM) and Albin Norrbin (Fantic) also ended their time in Sweden with double wins in the Enduro Junior and Enduro Youth classes respectively.
EnduroGP class – Four-way battle upfront
The fight for top honours in EnduroGP was a hard-fought one on day two of the AIRMOUSSE GP of Sweden with the top four riders separated by just 14 seconds after more than one-hour of timed special test racing. Frustrated by his mistakes on day one, Freeman began day two on a mission, sweeping the first three tests to grab an early lead. But the pace was frantic at the top as Verona, Guarneri and Josep Garcia (KTM) all came to the boil early on lap two. Garcia won the second CHAMPION Enduro Test, while Verona topped the ACERBIS Cross Test.
Opening up a slender advantage on lap three, Freeman held some breathing room entering the final test of the weekend, the ACERBIS Cross Test. Behind him Guarneri provisionally held second with Garcia one tenth of a second adrift in third. But a blisteringly fast time from Verona leapfrogged him past both riders and into second, finishing just four seconds behind Freeman.
With second slipping from his grasp on the final test, Guarneri held of Garcia by less than one-second for third. Although starting the day strongly, Will Ruprecht (TM) – day one winner – couldn't maintain that pace and slipped down the order to fifth.
"It's amazing to get the win, but for me the biggest thing was to turn things around from yesterday," told Freeman. "I started strong and was able to lead all day. Hats off to Andrea on that final test though, I'm glad I had some breathing room going into it!"
Freeman now leads the EnduroGP standings entering the summer break with the final two rounds of the championship remaining in October.
Enduro1 – Verona steals the show
With each passing day, the battle for top honours in Enduro1 gets hotter and hotter. Today was no exception with Verona and Guarneri not only racing for Enduro1 victory but EnduroGP top honours as well. There was little to separate them all day, though until the final test it was Guarneri who appeared to have things in his favour.
However, it's never over until it's over and with a scorcher of a time laid down by Verona it was enough to overhaul Guarneri for the win, and in doing so, maintain his championship lead.
Behind the top two, Honda's Samuele Bernardini took third, albeit over two minutes behind the leaders. Sweden's Mikael Persson (KTM) finished fourth, with Canada's Kade Tinkler (KTM) fifth.
"I'm super happy about my day," said Verona. "We were close all day long and it was hard to make a difference. Coming into the final test I knew I had to give it everything. I was full gas with nothing to lose and it paid off – first in Enduro1 and second overall."
Enduro2 – Garcia ahead of Ruprecht
Enduro2 saw Garcia return to the top of the results as he took victory over Ruprecht. While Ruprecht bettered Garcia on a number of tests, the Spaniard proved more consistent as his battle for overall honours pulled him clear in Enduro2.
Another third place was on the cards for Hamish MacDonald (Sherco), while Albin Elowson (Husqvarna) and Joe Wootton (Husqvarna) were fourth and fifth respectively.
Enduro3 – Freeman extends championship lead with win
While Freeman ran away with proceedings in Enduro3, there was plenty of battles behind him for the podium. Jaume Betriu got the better of the McCanney brothers for second, while Jamie McCanney (Husqvarna) edged out his brother Daniel McCanney (Sherco) for third. Antoine Basset (Beta) took fifth.
Enduro Women – Sanz in charge
Laia Sanz (GASGAS) left no doubt that she is now up for two full days of FIM EnduroGP racing, claiming victory on day two. While she didn't have things all her own way, winning three of the day's six special tests, it was her pace on the CHAMPION Enduro Test and NERVE by JUST1 Extreme Test that sealed the deal.
Fastest on the ACERBIS Cross Test, Mireia Badia (GASGAS) claimed the runner-up result with Jane Daniels (Fantic) third. Rosie Rowett (KTM) and Marie Holt (GASGAS) rounded out the top five.
Enduro Junior – Last gasp effort for Macoritto pays off
Delivering more great battles, both Lorenzo Macoritto (TM) and Matteo Pavoni (TM) again fought it out for the Enduro Junior victory. Entering the final test it was Pavoni who held the upper hand by nearly two seconds, but a flyer from Macoritto saw him collect his second win of the weekend.
Never too far away from the TM mounted pairing, Leo le Quere (Sherco) ended his day in third. Max Ahlin (Husqvarna) was fourth with Luc Fargier (GASGAS) fifth.
Enduro Youth – Norrbin makes it a memorable home GP
Running away with his fifth victory on the bounce, local hero Albin Norrbin (Fantic) made it an AIRMOUSSE GP of Sweden to remember with the Enduro Youth class win. Sweeping the first eight special tests of the day, and easing back on the final one, he earned himself a healthy 66-second margin of victory. Samuli Puhakainen brought his TM home in second, while Kevin Cristino (Fantic) held off teammate Harry Edmondson for third. Albert Fontova (KTM) rounded out the top five.
"It's been a great day, great weekend, and honestly a great start to this championship," told Norrbin. "Today was a lot of fun and I felt like mistakes from my side were at a minimum. It's good to have a strong lead like this heading into the summer break."
After a busy fortnight of racing, the Borilli FIM EnduroGP World Championship takes a well-earned summer break before returning for the final two rounds of the championship in early October.