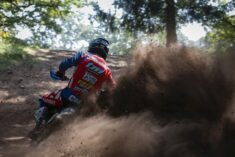 Bouncing back from disappointing performances one week ago at the GP of Estonia, Wil Ruprecht (TM) proved himself to be the rider to beat on day one of the AIRMOUSSE GP of Sweden, round four of the 2021 Borilli FIM EnduroGP World Championship in Skövde. With Wil topping the overall EnduroGP results by a healthy 20 seconds, as well as winning the Enduro2 class, the Australian was joined as a class winner by Davide Guarneri (Fantic) in Enduro1, Brad Freeman (Beta) in Enduro3, Laia Sanz (GASGAS) in Enduro Women, and Lorenzo Macoritto (TM) in Enduro Junior. Albin Norrbin (Fantic) claimed a home win in Enduro Youth.
EnduroGP – Ruprecht bounces back
Taking the win on the Friday night AKRAPOVIC Super Test, Wl Ruprecht made his intentions clear right from the start of the AIRMOUSSE GP of Sweden. Although only winning by a slender margin, come the end of the first day's opening lap, Wil was still pushing hard and battling against both Josep Garcia (KTM) and Brad Freeman. With Freeman losing time on each of the three ACERBIS Cross Tests, the battle for the EnduroGP class lead was all about Ruprecht and Garcia.
With little to separate the two riders as the day neared its close, the final CHAMPION Enduro Test would prove decisive. For Ruprecht it went well, very well, as the TM mounted rider topped the time sheets to maintain his class advantage and ultimately secure the day's win. For Garcia, who needed to deliver his best while hoping for a mistake from Ruprecht, things didn't work out. The Spaniard fell, but still earned a hard-fought runner-up EnduroGP result.
With Freeman rounding out the podium, fourth, fifth, and sixth positions all went to 250f mounted riders – Davide Guarneri, Samuele Bernardini (Honda), and Andrea Verona (GASGAS).
"Yeah, today was good," told Will. "The tests were nice to ride, but also a little scary in places – you certainly didn't want to be making any big mistakes. I just rode a strong but steady pace, hit my marks, and tried not to over ride the bike. I think there's a little more that I can give, but it was a good day."
Enduro1 – Guarneri claims day win number two
Although delivering a not-so-great time on the opening Akrapovic Super Test, Davide Guarneri hit the ground running at the start of day one, topping the opening CHAMPION Enduro Test before winning a further three tests before the mid-way point of the day.
"I had a really strong opening lap, which meant that I was able to open up a small advantage," commented Italian Guarneri from the podium. "I made some mistakes, it wasn't a perfect day from me, but I think everyone was making some mistakes. For myself and Fantic, it's great to get this second victory of the championship. I was also a little lucky – I had a big crash in the final enduro test, but I was able to get back on my bike quickly."
It was a great day for Samuele Bernardini who secured his best result of the season with second. Andrea Verona dropped outside the top two for the first time, taking third. Antoine Magain (Sherco) and Mikael Persson (KTM) were fourth and fifth respectively.
Enduro2 – Ruprecht and Garcia lead the way
The Enduro2 class boiled down to a battle between Ruprecht and Garcia for the win. With the duo pushing the pace in the overall EnduroGP standings they pulled clear of their classmates. With Ruprecht holding firm, Garcia would be denied his third race win in a row.
Behind the top two it was another consistent performance from New Zealand's Hamish MacDonald (Sherco) in third. The reigning Enduro Junior champion is growing stronger with each round and will soon look to bridge the gap to the top two. Delivering a strong performance on home soil, Sweden's Albin Elowson (Husqvarna) was fourth with Finland's Eero Remes (TM) fifth.
Enduro3 – Seven in a row for Freeman
While admitting to not having the measure of Ruprecht and Garcia in EnduroGP, Freeman continued his win streak in Enduro3 to claim his seventh victory of the season. As ever the battle behind him was a much tighter affair with Jaume Betriu (KTM), Jamie McCanney (Husqvarna) and Daniel McCanney (Sherco) fighting for the remainder of the podium. Betriu placed as runner-up, with Jamie getting the better of his brother Daniel for third. Antoine Basset (Beta) rounded out the top five.
Enduro Women – Laia by a mile
Starting as she meant to continue, Laia Sanz comfortably topped the event opening AKRAPOVIC Super Test before firing out of the blocks early on day one with what would be the first of three wins. Unbeaten on any special test during lap one, and having extended a healthy lead in the process, Laia topped just one of the final lap's three special tests – the ACERBIS Cross Test – yet still ended the day on the top step of the podium and close to 50-seconds ahead of her closest challenger.
Second on day one went to Britain's Jane Daniels (Fantic) who put together a largely mistake free day, beating Laia on one of the day's special tests. The only other rider to take a test win off Sanz was Mirea Badia (GASGAS). Like Daniels, Badia wasn't really able to challenge Laia, placing third overall and 13 seconds down on Daniels. With Britain's Rosie Rowett (KTM) fourth and Norway's Marie Vilde Holt (GASGAS) fifth, the best placed home rider was Linnea Akesson (Husqvarna) in sixth.
"I felt like the special tests didn't really suit me too well, but I'm really happy to have got the win," explained Sanz at the end of the day. "The day was quite relaxed, no stress, so that was good. I'm sure tomorrow will be tougher, but I hope that I can match this result and not struggle on the second day as I have at some events recently."
Enduro Junior – Macoritto takes it
As has been the case so far this year, the battle for top honours in Enduro Junior was played out between Lorenzo Macoritto and teammate Matteo Pavoni (TM). Spurred on by his day two win last week in Estonia, Macoritto held off Pavoni by 12 seconds to get the job done. With home support on his side, Sweden's Max Ahlin (Husqvarna) wasn't too far away, just 19 seconds behind Pavoni, for third. He'll look to go better on day two. A strong ride by Fantic's Jed Etchells saw him beat Ruy Barbosa (Honda) by five seconds for fourth.
Enduro Youth – Home win for Norrbin
Following his win in Italy and double in Estonia, Norrbin is now the rider to beat in Enduro Youth having won today in Sweden. The Swede was a class act taking eight test wins from 10. Kevin Cristino and Harry Edmondson made it a Fantic 1-2-3 in Skövde. Samuli Puhakainen (TM) and Albert Fontova (KTM) completed the top five.
After a physically demanding opening day in Skövde, the AIRMOUSSE GP of Sweden concludes tomorrow, Saturday July 24.