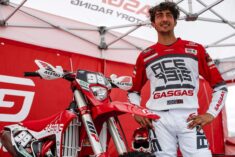 Andrea Verona (GASGAS) is an Italian that cannot wait to compete in this year's FIM International Six Days of Enduro (ISDE). The opportunity to compete in his own 'back yard' and represent his country in the World Trophy Team competition with a very real chance of both team and individual success, comes few times in a career.
Already a five-time FIM International Six Days of Enduro competitor, Andrea first raced in the event in Slovakia in 2015, as a Club team competitor. Going on to experience the highs of winning in Chile in 2018 as part of Italy's Junior World Trophy team, and the lows of not finishing in Portugal in 2019 when his bike failed to start on the morning of day five. Andrea has learned first-hand just how rewarding, difficult, and ultimately important the ISDE is.
"The ISDE is a really important race – to me, to Italy, to enduro. I can't wait to start," explains Andrea. "I think for every rider, it is an honour and a really big pleasure to represent your country. For me to wear the Italian jersey is very special. Also, being a part of a team is really cool. This season in the World championship I've been competing against some of my Italian teammates, so racing together with them, for our country, will be very special."
In representing Italy in the World Trophy Team competition alongside Davide Guarneri (Fantic), Thomas Oldrati (Honda) and Matteo Cavallo (TM), Andrea knows that he, and his teammates, will carry the hopes of an expectant nation. "Italy has always had a very strong connection to the ISDE. This year, with the race being back in Italy, the event is obviously even more important to the Italian enduro community. I think Italians are always proud of the sportsmen and women who represent their country, and for sure that is true with the ISDE."
One thing that will make this year's FIM International Six Days of Enduro just that little bit more special, both for Andrea and all competitors, is the fact that the event marks the re-start of the ISDE following the global COVID pandemic.
"Because of everything that has happened in the World with COVID, this ISDE is even more important than normal – a really important moment for our sport, for enduro in Italy, and for enduro fans and riders all around the World," offers Andrea. "I'm confident that despite the COVID situation everyone will remember this race as a good one. The most important thing is that we have a race. I think everyone is very pleased to see the ISDE back."
As well as celebrating the return of the event to enduro's annual sporting calendar, does Andrea think he will have any other reason to celebrate come the end of the event?
"With six days of racing a lot can happen. But, on paper at least we have a very strong team, so we are confident and looking forward to the race," he comments. "We have to all ride well, to give our all as individuals for the team, and then, day-by-day, we will see how things are going."
"I have a number of goals for this ISDE. The most important thing is for me to do my best to help Italy win the World Trophy competition. Then, I want to do as well as I can in Enduro1, and try and win there. And, if things are going well for me, I want to do as well as I can in the overall individual category. But winning for Italy is my number one goal."
Visit fim-isde.com for more information.