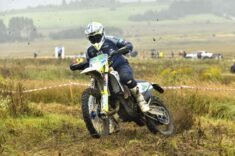 Next weekend, on 30 October and 1 and 2 October, the final of the European Enduro Championship will take place in Hellendoorn, Netherland. The organising Motor Club Nijverdal Hellendoorn (MCNH) will hold a prologue for the first time on Thursday from 4.30 p.m. and after the two long riding days on Friday and Saturday there will be the award ceremony.
There will be three laps a day on the 80 km long course, which is practically in the format of a big 8. This means that the paddock is also the service point twice per lap, which makes logistics much easier for the teams.
The course includes four different special tests: two enduro tests, one extreme test and one cross test. All tests are within easy reach of the paddock for fans and supporters.
In the overall classification it's a duel between Enrico Rinaldi and Krystof Kouble from Czech Republik. There the Italian has a small advantage and, completely untypical for his compatriots, he thinks that sandy ground would suit him.
In the class of the smallest motorbikes and youngest riders, the U21 class with the 125cc motorbikes, Pyry Juupaluoma, who is only 18 years old and riding in Finland, could even become the champion in his class early after the first day of riding. The Husqvarna rider already has so much lead over the competition and is also always to be found at the top of the overall standings.
French rider Justine Martel also has the best chance of securing her title in the women's class early.
In the other classes, the lead of the favourites is not yet so clear.
The start is on Friday and Saturday from 8:30 a.m.
Live-timing: https://endurolive.nl/
More information and schedules, results and links, there are always up to date and right on the official website: http://european-enduro.com/