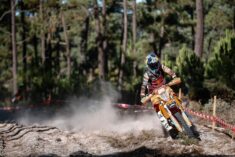 The opening day of competition at round five of the Borilli FIM EnduroGP World Championship saw Josep Garcia (KTM) claim a commanding victory in Portugal. With EnduroGP roaring back into life following its summer break, Spaniard Garcia was quickest to hit the ground running on day one of the TERRA ÚNICA GP of Portugal as he rode clear of his rivals to claim both the EnduroGP and Enduro 2 category wins.
The Junior Enduro class saw a new winner emerge with Finland's Roni Kytonen (Honda) excelling in the sandy conditions to top the standings, while Sweden's Albin Norrbin (Fantic) extended his Youth Enduro championship lead by claiming his sixth consecutive victory.
All classes represented on the EnduroGP podium at the TERRA ÚNICA GP of Portugal with Josep Garcia (KTM – Enduro 2) taking a dominant win ahead of Brad Freeman (Beta – Enduro 3), with Andrea Verona (GASGAS – Enduro 1) third.
EnduroGP – Dominant Run By Garcia
After an extended summer break, the Borilli FIM EnduroGP World Championship returned to action in Santiago do Cacem in southern Portugal for the penultimate round of the 2021 season. From the word go the action came thick and fast as riders went head-to-head in the Friday evening AKRAPOVIC Super Test.
Britain's Joe Wootton (Husqvarna) lead the way for the majority of the night until he was bested by the final two riders to hit the track – Brad Freeman (Beta) and Josep Garcia (KTM). Both were almost inseparable, but it was Freeman who narrowly took the win by just one tenth of a second.
However, knowing the sandy special tests would be to his liking, Garcia was quick to take over. Winning the opening NERVE by JUST1 Extreme Test, the Spaniard then topped the next five special tests to further extend his lead. Signing his day off with the fastest times in both the final CHAMPION Enduro Test and ACERBIS Cross Test, he won the day by an impressive 54 seconds.
Behind him the fight for the remainder of the podium positions was closely contested. Freeman faced a strong challenge from Italy's Andrea Verona (GASGAS), with Britain's Nathan Watson (Honda) and Steve Holcombe (Beta) both within striking distance. With four seconds to his advantage, Freeman held on to the runner-up position, with Verona taking third.
Watson made a welcome return to EnduroGP action for fourth, while defending EnduroGP champion Holcombe showed he's returning to form following a difficult season plagued with injury and illness with fifth.
"I felt great on the bike today," told Garcia. "I knew the conditions would suit me out there, so my goal this morning was to push hard from the beginning and see how I got on. I managed to build up a good lead and from midway I managed it as best I could. I'm excited for tomorrow now."
Enduro1 – Verona Makes Good
Locked in a battle for the overall runner-up result, Andrea Verona (GASGAS) pulled clear of his Enduro1 classmates to take the win. A strong ride throughout the day saw him build up a comfortable 40-second margin of victory.
For Davide Guarneri (Fantic), the veteran Italian wasn't able to match the pace of his countryman from the word go. Losing time in the morning, he came on stronger in the afternoon, taking two special test wins. For Sunday, he'll look to come out swinging against Verona early on.
Ensuring an Italian sweep of the podium, Matteo Cavallo (TM) took third, with France's Christophe Charlier (Beta) and Italy's Samuele Bernardini (Honda) completing the top five.
Doing just what he needed to do to extend his led in the Enduro 1 World Championship, Andrea Verona (GASGAS) took the win on day one in Santiago do Cacem
Enduro2 – Garcia Takes Over Points Lead With Victory
Saturday was a day to savour for Garcia, with the Spaniard also claiming Enduro2 honours to take over the championship lead. With a dominant ride in Enduro2, the KTM rider was almost untouchable, winning by one minute and 22 seconds.
After a couple of years absence, Nathan Watson (Honda) wasted no time getting back into the swing of EnduroGP action. Second on day one and edging out Holcombe by just six seconds, the addition of Watson to the series in these closing stages of the championship certainly added excitement.
"It's great to be back in EnduroGP," said Watson. "Things were a little up and down today, but I thought they might be as I settled into things again. I felt like I progressed more as the day went on and I'm keen to see how tomorrow goes."
Behind the top three of Garcia, Watson and Holcombe, Australia's Will Ruprecht (TM) was fourth – losing his championship lead to Garcia in the process. The Australian will need to fight back on Sunday to keep those title hopes alive. Only six seconds behind Ruprecht, Italy's Thomas Oldrati (Honda) placed fifth.
Josep Garcia (KTM) came out swinging on day one of the penultima round of the Borilli FIM EnduroGP World Championship. In topping the Enduro 2 class he also moved to the top of the class standings
Enduro3 – Freeman Quickest
The opening day of the TERRA ÚNICA GP of Portugal marked another Enduro3 class win for Beta's Brad Freeman. Although not the most commanding of Enduro3 victories seen from Freeman this season, he still did more than enough to secure his ninth consecutive win.
Feeling quite at home in the soft sandy terrain, Spain's Jaume Betriu (KTM) ended his day was runner-up to Freeman. Sherco's Danny McCanney put in a solid day to take third, closing the gap to Betriu to 10 seconds come the end of the final test. Jamie McCanney (Husqvarna) was fourth and Andrew Wilksch (Husqvarna) took fifth.
Brad Freeman (Beta) kept his Enduro 3 class win streak going in Portugal, claiming his ninth day win of the championship to date
Enduro Junior – Kytonen Comes To The Fore
The Enduro Junior class saw Roni Kytonen (Honda) come to the fore to secure his first victory of the season. After an early lead by Lorenzo Macoritto (TM), Kytonen topped the second NERVE by JUST1 Extreme Test to take over the proceedings. Continuing to fend off attacks from title favourites Matteo Pavoni (TM) and Macoritto, the Finn took a well-earned win.
"I wasn't expecting this win today," said Kytonen. "I was injured after Estonia, so I'm not 100 per cent. But I seemed to gel well with the tests and when I got into the lead I was able to hold on for the win."
Roni Kytonen (Honda) gelled with the soft, sandy Portuguese terrain to claim his first day win of 2021 by edging out Italy's Matteo Pavoni (TM) by just over three seconds.
Enduro Youth – Tight Win For Norrbin
The racing was tight in Enduro Youth with Fantic riders Albin Norrbin and Kevin Cristino leading the way. Norrbin looked strong all day, but with Cristino able to match his pace, he couldn't relax. With just five seconds separating the duo – in Norrbin's favour – it's sure to be another tight affair tomorrow. Behind them, Samuli Pujkainen (TM) was third, with Harry Edmondson (Fantic) and Federico Rocha (TM) rounding out the top five.
The TERRA ÚNICA GP of Portugal will conclude tomorrow, Sunday 10 October.