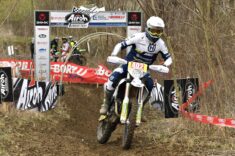 The 2022 Borilli European Enduro Championship enters its second half: the 24 MX ROUND 3#, takes place oin Sipoo, Finland, just 40 km east of the capital Helsinki on 23rd and 24th of July. 
It is the chance for Belgian Erik Willems to extend his lead in the overall standings: The Husqvarna rider had lost much of his lead after technical problems in the last round. But with strong international competition, you can't afford any mistakes, and it will show how fit Willems can present himself.
His toughest opponent, the Briton Dan Mundell, had already prepared himself the past days in Sweden, under similar ground conditions as in Sipoo.
But three-time Enduro World Champion Eero Remes can also be considered a favourite: The Finn will use his home race to make a guest start in the European Championship.
The former European champion of 2019, Eemil Pohjola, is also one of the riders to keep an eye on at his home race.
In the senior category, Marko Tarkkala, one of the big names in Finnish enduro racing, will also be competing.
On both days, Saturday and Sunday, three off-road rounds, each over 65 km long, await the riders – practical for the teams and spectators is that the course in the form of a big 8 has both checkpoints directly at the paddock, where the cross test will also be ridden. In addition, the participants have to complete a five-kilometre enduro test and a demanding extreme test.
An official opening ceremony with all the riders will take place on Friday evening at 20:00.
Live timing can be found directly on the official homepage on both days, along with all the information, results, championship standings and more: https://www.enduroeuropean.com/