FIM Europe: Enduro 2022 – – Home advantage used in Finland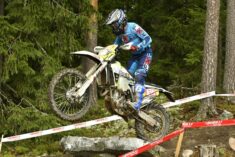 On the first day of the Borilli European Enduro Championship 2022, the 24MX ROUND 2#, in Sipoo, Finland, local hero Eero Remes won on a Husqvarna: The Finn has already collected three world championship titles in his active career and, although he actually wanted to hang up his helmet, he couldn't resist the temptation: "I only live 20 minutes from here and I know the terrain and the conditions well. It would be a shame not to have taken the chance to race," he said after the competition. At first it didn't look like he had the advantage, because in the demanding extreme test the small rider got stuck in the long stone field and lost more than 40 seconds, which dropped him to sixth place overall. But Remes continued to fight his way to the front and was actually able to snatch victory from his compatriot Eemil Pohjola, who had been in the lead until then, by less than a second in the very last special stage! "I got stuck on the logs again in the last special stage, but I was still faster than Eemil," he commented on his success. Pohjola is no stranger to this, having already been European champion in 2019.
At least there was no Finnish guest entrant in third place in the overall standings, but the current leader in the European Championship, Belgian Erik Willems, who finished less than three seconds behind Remes: "I rode pretty much at the limit and therefore crashed a few times too much. No serious crashes, more slips, but even with that you lose time. Besides, I'm pretty tired, I was still sick in June and I still have a bit of a training backlog to make up for.
However, he remains in front in the championship, especially since his fiercest rival, the Briton Dan Mundell, dropped out with a technical problem in the very first special stage: When landing after a long jump, his front wheel had lost half of its spokes. The Beta rider did not crash, but could not continue.
While the hosts took the first places in the overall classification and almost all classes, Frenchman Clement Clauzier was able to prevail over his Italian rival Manuel Verzeroli in the youth class of the youngest riders. However, GasGas rider Verzeroli remains in the lead of the championship.
There was no Finnish victory in the women's race either: The leader in the European Championship, Nieve Holmes from Great Britain, won ahead of Marie Holt Vilde from Norway and extended her lead.
Live timing can be found directly on the official homepage on both days, along with all the information, results, championship standings and more: