EXTRAOFICIAL: 607 RIDERS FOR THE SIX DAYS 2018!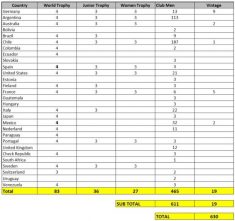 José Tomás Díaz, President of the Organizing Committee of the ISDE Viña del Mar 2018,​ released the unofficial number of riders registered for the big event on November 12-17. There are 607 competitors, including 18 vintages so far (figure that could grow).
"From my point of view a good number of ​riders for this ISDE No. 93, who will find in Chile, once again, a welcoming country full of possibilities to practice our passion, the enduro," said the Chilean leader.
Unofficial registration, after the pre-registration process:
World Trophy: 83
Junior Trophy: 33
Women's trophy: 27
Men Club: 446
SUB TOTAL 589
Vintage 18
TOTAL 607