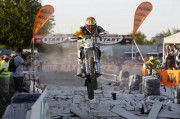 Video supertest. In front of an Andalus audience completely mad for Victor and Cristobal GUERRERO and also Jerez rider José MONTILLO, Mathias BELLINO (F – Husqvarna) won his first KTM Super Test of the season with an ease and a speed really impressive!
Indeed, on a technical and very fast track that looked a bit like a SuperEnduro track, the Husqvarna official rider Mathias BELLINO has been completely dominant with nearly 3 seconds (1'30''39) over his first runner-up, the KTM official rider Christophe NAMBOTIN (F – 1'33"09) and more than four over E2 big rivals Antoine MEO (F – KTM), 1'34''39, and Pierre-Alexandre RENET (F – HVA), 1'34''69!
"In love" with this type of special test, the 2012 Junior World Champ' has proved, if he still has to, that he is a true and very dangerous contender for the title in E3. Moreover, he wins the 9 seconds bonus of the category over Manuel MONNI (I – TM) and overall leader Matti SEISTOLA (FIN – Sherco)…
In E1, it is Christophe NAMBOTIN who won the special test ahead of Lorenzo SANTOLINO (E – Sherco) and Simone ALBERGONI (I – Kawasaki). Local rider Cristobal GUERRERO (Yamaha) ended 4th…
Antoine MEO, despite a crash in the Finish line after an intense duel with Pierre-Alexandre RENET (2nd), won the E2 class. Loïc LARRIEU (F – Sherco) ended 3rd ahead of Victor GUERRERO (KTM)…
Finally, Kirian MIRABET (E – KTM) signed his first Super Test victory in Junior over Giacomo REDONDI (I – Beta) and Luis OLIVEIRA (P – Yamaha) while Josep GARCIA (E – Husqvarna) won the FIM Youth Cup 125cc. Laïa SANZ (E – KTM) has dominated the Women category!
After a nice KTM Super Test, see you tomorrow at 9.00 on the Circuito de Jerez for the first day of the Grand Prix AMV Seguros of Spain that will be raced under a tough heat!