Video dag 1.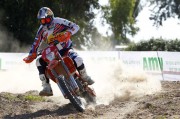 Christophe NAMBOTIN sets the pace on day one of the Maxxis FIM Enduro World Championshipin Spain. Delivering the goods in extremely hot and dusty terrain in Jerez, KTM mounted NAMBOTIN topped the standings in the Enduro 1 class. There was a third win in a row for KTM's Antoine MEO in Enduro 2 while Husqvarna's Mathias BELLINO was the rider to beat in the Enduro 3 ranks. Kicking off the start of her Women's Cup title, Spain's Laia SANZ (KTM) delivered the home crowd the victory they all came to see.
The fight for top honours in the Enduro 2 class was extremely close between both Antoine MEO (F-KTM) and Pela RENET (F-Husqvarna). With unfinished business from Chile, RENET was determined to not let MEO get the better of him and held a tiny six tenths of a second lead with two tests to go.  But a crash on the final cross test from the Husqvarna rider was all it took for MEO to sneak into the lead and claim his third win on the bounce. "The battle between Pela and myself was incredible. It was so close and was anybody's race to win," told MEO. "Unfortunately for Pela he made a mistake and crashed but we were riding on the very limit." Behind the leading duo, Alex SALVINI (I-Honda) held station in third. Although matching the pace of the leaders, the Honda rider just wasn't able to close their advantage and ended his day 14 seconds behind RENET in third. Keeping the pressure firmly on SALVINI, France's Johnny AUBERT (Beta) hoped to capitalise on a mistake from the Italian rider. But with SALVINI holding his ground AUBERT had to settle for fourth. Delivering an impressive ride on home turf, Spain's Jaume BETRIU (Husqvarna) cracked the top five with fifth.
Similar to E2, the Enduro 3 class featured a head-to-head battle for victory. Defending champion Matt PHILLIPS (AUS-KTM) was back on form and fighting for the win with Husqvarna's Mathias BELLINO (F). Constantly swapping and changing position throughout the day, it was a costly mistake fromPHILLIPS that finally offered BELLINO enough breathing room to secure the win. "The racing was so close all day," remarked BELLINO. "Matt was hungry to win but so was I and I wasn't going to give up without a fight. Each lap the positions were changing and then on the final lap I knew I had to give it my all. Luckily he made a slight mistake and the win was mine. I'm happy with today." Ensuring three different manufactures featured on the podium, Italy's Manuel MONNI ended his day third for TM. Behind Monni, Finland's Matti SEISTOLA (Sherco) had a mixed day of racing and placed fourth whileAigar LEOK (EST) added to TM's success on day one by finishing fifth.
In the Enduro 1 class there was absolutely no stopping Christophe NAMBOTIN (F-KTM). The Frenchman was simply unbeatable and managed to set the fastest time in all of the E1 special tests. Securing a near one-minute margin of victory, NAMBOTIN also unofficially ended his day as the fastest outright. "It's been a perfect day – I can't fault it," confirmed NAMBOTIN. "I managed to win all 11 special tests – I don't think I've done that before in E1 – it's been great." With NAMBOTIN running away with proceedings, TM's Eero REMES (FIN) and Spain's Cristobal GUERRERO (Yamaha) took the remainder of the podium positions. Securing his first top three result with Yamaha,GUERRERO proved that he's firmly settled in with his new team. Pushing hard in the hot and dusty conditions, Sherco's Lorenzo SANTOLINO delivered a strong ride at his home race for fourth. Yamaha's Marc BOURGEOIS (F) completed the top five.
Returning to the top step of the podium, Husqvarna's Jamie MCCANNEY (GB) claimed the Enduro Junior win. Continuing to impress in the 2015 series, Gas Gas mounted Diogo VENTURA (P) ended his day as runner-up. Making his first appearance in the 2015 season, EWC newcomer Steve HOLCOMBE (GB-Beta) turned a few heads with his standout performance to place third. Behind the top three, Luis Oliveira (P-Yamaha) edged out Italy's Giacomo REDONDI (Beta) by three seconds for fifth. Spain's Josep GARCIA (Husqvarna) took a commanding victory in the Youth Cup class.Mikael PERSSON (SWE-Yamaha) and David ABGRALL (F-Yamaha) completed the top three.
Making a winning start to her championship defence, newly mounted KTM rider Laia SANZ claimed victory in the Women's Cup. Australia's Jessica GARDINER (Sherco) placed as runner-up to Sanz while Jane DANIELS (GB-Husqvarna) completed the top three. Yamaha's Jemma WILSON (Aus)and France's Samantha TICHET (KTM) were fourth and fifth respectively.