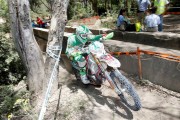 Hot weather and exceptionally close racing brings the GP AMV Seguros of Spain to an exciting close on day two in Jerez. Across all classes the second day of racing at round two of the Maxxis FIM Enduro World Championship was incredibly competitive. In the Enduro 3 class, Mathias Bellino (Husqvarna) secured a one-second margin of victory, while his teammate Jamie McCanney kept himself two seconds ahead of his closest competitors to win in the Enduro Junior ranks. KTM's Antoine Meo was again the winner in Enduro 2 while Christophe Nambotin (KTM) was unstoppable in Enduro 1. Taking a commanding victory, Laia Sanz (KTM) was the clear winner in the Women's Cup.
On day two there was no change at the head of the Enduro 2 class. Claiming his fourth win of the season, KTM's Antoine Meo continues to establish himself as the rider to beat.  "It's been another fantastic weekend for me," told Meo. "I didn't have a great feeling with the terrain. I won some tests and lost a few too but overall I was able to keep my times quite consistent and I think that was the most important thing. Hopefully I can keep this form going next weekend in Portugal." Delivering his best result of the 2015 series to date, Alex Salvini (Honda) chased Meo home for second. With a strong set of times on the final lap, the Italian managed to keep a hard charging Pela Renet (Husqvarna) four seconds behind him. With Renet forced to settle for third, it was Beta's Johnny Aubert who completed the top four – 15 seconds adrift of Renet. Showing great promise on day two, France's Loic Larrieu placed fifth on his Sherco ensuring five different manufactures occupied the top five positions.
As Enduro 3 continues to prove itself as one of the most competitive classes of the championship, Husqvarna's Mathias Bellino is showing himself as the main rider to beat. Fighting his way from fourth into the lead, Bellino managed to hold off a late charge from Sherco's Matti Seistola to take a small but very important one-second margin of victory. "That was one very close race for the victory, but it was great," remarked Bellino. "On the last lap I had the lead but the gap was nothing and any mistake could have pushed me back to fifth. Winning both days is an incredible feeling." With the top six riders separated by just 17 seconds, Matti Seistola was next to Bellino. Coming an agonising one-second shy of winning, the Finn was nevertheless pleased with his day. Turning up the speed for day two, Spain's Jonathan Barragan delivered Gas Gas a home GP podium result in third.  Only one second behind Barragan, Italy's Manuel Monni (TM) missed out on a top three result and was fourth. Australia's Matt Phillips (KTM) rounded out the top five with Thomas Oldrati (Husqvarna) two seconds back in sixth.
Once again there was no stopping KTM's Christophe Nambotin in Enduro 1. At home in the hot, dry and dusty conditions, the Frenchman delivered a carbon copy result of his previous day's ride. Winning all special tests, Nambotin was also unofficially the fastest outright rider. "It's been a brilliant weekend, really good," smiled Nambotin. "Winning both days is exactly what I hoped for and also getting the outright too is a nice. I was disappointed with the way I rode in Chile on day two and I really wanted to make up for it. It's great to win." While Nambotin cleared off to win, Eero Remes (TM) was again second to the KTM rider. Delivering another podium result on home soil, Yamaha's Cristobal Guerrerohas put himself firmly back in the championship fight following a difficult opening round in Chile. Improving two positions over day one, Husqvarna's Daniel McCanney (GB) held off a last lap battle with Kawasaki's Simone Albergoni (I) to take fourth.
In the Enduro Juniors it was another win for Husqvarna's Jamie McCanney (GB). But this time around he came under fire from a very impressive Steve Holcombe (GB). The Beta mounted rider surprised a lot of people with his speed throughout the weekend and is a new threat for race honours. Behind the leading British riders, Italy's Giacomo Redondi (Beta) found his way onto the podium with third. Claiming a top four result, Luis Oliveira is on form ahead of his home race in Portugal next weekend. One second behind Oliveira, Italy's Alessandro Battig (Honda) completed the top five.
The GP of Spain was one to remember for home favourite Josep Garcia (Husqvarna) with the young Spaniard clocking up his second victory of the weekend in the Youth Cup class. The Yamaha duo of Mikael Persson (SWE) and Luca Garello (F) joined him on the podium in second and third.
In the Women's Cup it was another win for Spain's Laia Sanz, This time the KTM rider extended her advantage to almost two minutes. Australia's Jessica Gardiner (Sherco) followed Sanz home for the runner-up with Jane Daniels (GB-Husqvarna) seven seconds behind in third. Jemma Wilson (AUS-Yamaha) and France's Blandine Dufrene (KTM) completed the top five.
The Maxxis FIM Enduro World Championship continues with round three, the GP Polisport of Portugal, in Gouveia on May 16/17.