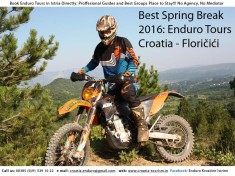 We are organizing Guided Enduro Tours in Istria – Croatia. Professional guides, our own accommodation with homemade food in traditional Istrian Tavern and organized lunches in Istrian traditional taverns, as well as in beautiful places near the ocean. Book a flight to Pula, Rijeka,Trieste or to Venice – we pick You up! You don't need Your own motorcycle, You can rent ours! 
With direct booking whole package with us, without agency, You can get, I believe the best price of only 40 eur for Guided Enduro Tours!
Take a look at our Enduro web site, check out programm, photos and videos:
http://www.croatia-tourism.in/enduro-croatia/
We work whole year, in Istria is weather fine for all months Enduro Tours. Only July and August are too warm for driving.
This spring Book Your Enduro Tour from:
1. April to 20. April
25. April to 30. April
7. May to 31. May
If You want to arrive earlier, we are free from 20. February.
Additional, find offer example for 3 days Enduro Adventure:
For groups:
3 x ACCOMODATION = 3 X 15 = 45
3 X BREAKFAST = 3 X 7 = 21
3 X LUNCH = 3 X 13 = 39
3 X DINNER = 3 X 13 = 39
3 X ENDURO TOUR = 3 X 40 = 120
TOTAL = 264 EUR per person
If You are interested, reply with dates You want to book Your Enduro Tour and number of persons, I will send You an Offer and check Flight availability for You.
Sincerely,
Doris Floricic
T: 091 (0)91 539 10 22
www.croatia-tourism.in
e mail: croatia.enduro@gmail.com
e mail: doris@croatia-tourism.in