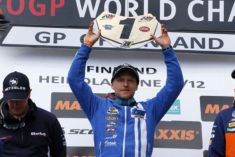 Doing exactly what many predicted he would, and his rivals hoped he wouldn't, Eero REMES (TM) claimed EnduroGP class victory on day one of the GP of Finland. Fast and consistent throughout the day the defending Enduro 1 World Champion placed 24 seconds ahead of Britain's Steve HOLCOMBE (Beta) with fellow Brit Nathan WATSON (KTM) rounding out the overall podium. REMES' victory puts the Finn at the top of the EnduroGP championship standings.
"It was a great day for me," explained REMES. "Winning and moving into the lead of the EnduroGP championship, it's hard to have a better day. I started well and then pushed hard. Everything went well, I hope day two will be the same."
Behind REMES the British duo of Steve HOLCOMBE and Nathan WATSON finished just under eight seconds apart with both riders once again impressing during their debut senior season. A little slow to get going, HOLCOMBE pushed hard throughout the day to place closest to REMES. WATSON, experiencing rock littered Finnish enduro tests for the very first time, improved as the day progressed to finish in a well-deserved third overall.
Matt PHILLIPS (Sherco), the EnduroGP series leader prior to the Finnish race, made a good start to the day but a number of below-par tests saw him drop from the runner-up spot to fourth. Mathias BELLINO (Husqvarna) placed fifth overall with Loic LARRIEU (Yamaha), Alex SALVINI (Beta) and Taylor ROBERT (KTM) rounding out the top eight.
As the event's outright fast rider REMES also topped the Enduro 1 class, finishing close to 32 seconds ahead of Nathan WATSON. With the two riders comfortably finishing ahead of third placed Pascal RAUCHENECKER (Husqvarna), for the Austrian it was a notable result. Placing on an Enduro World Championship podium for the first time he finished just ahead of team-mate Danny MCCANNEY (Husqvarna). Ivan CERVANTES (KTM) placed fifth with Mikael PERSSON (Yamaha)sixth.
Matt PHILLIPS ended day one in Finland at the top of the Enduro 2 class, moving 19 points clear at the top of the series standings. "It was a pretty good day," commented PHILLIPS. "I just wasn't quite fast enough in a few tests to fight for the overall win, but in Enduro 2 things were good. I earned myself some good championship points, which is important. All-in-all it was a pretty decent day."
The runner-up spot went to Mathias BELLINO (Husqvarna), some 25 seconds behind PHILLIPS. Ending his day with a nasty crash on the motocross test, Loic LARRIEU (Yamaha) just managed to do enough to finish third – less than one-second ahead of Alex SALVINI (Beta). America's Taylor ROBERT (KTM) placed fifth withCristobal GUERRERO (Yamaha) sixth.
Picking up his fifth day win of the Enduro 3 championship Steve HOLCOMBE enjoyed a great day, topping each of the nine special tests in the E3 class. Although a little cautious on the opening enduro test, Steve quickly found his rhythm and dominated the class. "I was a little concerned after the first enduro test because I didn't feel like I'd ridden that well. But it went ok and I just kept pushing as hard as I could after that. The tests were really technical, always changing, but I enjoyed the day. Hopefully tomorrow will be the same for me."
Behind Steve Johnny AUBERT finished best of the rest, making it a Beta one-two on the podium with Antoine BASSET (KTM) third. Portugal's Luis CORREIA (Beta) placed fourth with Jaume BETRIU (KTM) fifth and Manuel MONNI (TM) sixth.
Earning his seventh day win of the series Giacomo REDONDI (Honda) comfortably topped the Enduro Junior class inHeinola. Moving further ahead in the EJ championship standings, REDONDI placed ahead of Josep GARCIA (Husqvarna)with Albin ELOWSON (Husqvarna) third.
Husqvarna mounted Brit Jane DANIELS secured victory in the Women's class, ending the day just over two seconds ahead of Laia SANZ (KTM). Starting her day in the best possible way, DANIELS stormed the opening enduro test to open up an immediate advantage over her rivals. Producing a mistake free day she did just enough to finish ahead of SANZ. "Winning the first test really set me up for the day," explained Jane. "I knew Laia would be pushing hard to win, so starting well really made a big difference. I went as hard as I could on the remaining tests and although Laia and Maria (Franke) were both very fast I managed to get the win." Just 16 seconds behind DANIELS, German KTM rider Maria FRANKE  landed herself on the podium at the end of her first day of Enduro World Championship competition. Local rider Sanna KARKKAINEN (KTM) placed fourth with Australia's Jemma WILSON (Yamaha) fifth.
Last but not least Jack EDMONDSON (KTM) topped the 125cc Youth class. Winning all but three of the day's special tests Jack placed ahead of Antti HANNINEN (Husqvarna) with Jean-Baptiste NICOLOT (Yamaha) third.
Day one of the GP of Finland proved to be a little shorter than previous GPs, but every bit as tough as expected. With the long enduro test proving to be the place where some riders were able to make up time on their rivals, the differences in times between those at the top of each class and those further down the results was significant. The weather remained dry throughout the day.