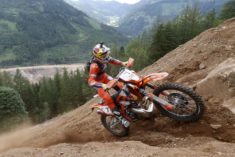 Jonny Walker has earned a fifth-place result at the 23rd running of the ErzbergRodeo Red Bull Hare Scramble. Setting a strong pace and leading during the majority of the first hour of the race, Jonny found his performance during the latter stages of the race hampered by a specific tyre choice, which frustratingly didn't go the way he'd hoped. Nevertheless, battling hard all the way to the finish he placed just five minutes from the podium and as the third of three KTM Enduro Factory Racing team riders to finish inside the top five.
Jonny now heads to the Dominican Republic, for the Machete Extreme Enduro.
Jonny Walker: "It's been awesome to be back racing at Erzberg, the event never fails to deliver. I got a great start and was going really well early on. I opted for a specific tyre choice, but unfortunately it didn't work out as I hoped it would. I really suffered to be honest, especially during the later sections of the race. I felt like I was riding well and that I had the speed to win, and felt good leading for much of the first hour. But I was having to carry my bike over too much stuff because of my tyre choice, rather than being able to ride up and over it.
I started to find things difficult when we got to the woods, I just didn't have the traction I hoped for. I rode as hard as I could through Karl's Dinner but I again struggled on some of the climbs towards the end. It's disappointing
because I know I'm riding well, but this result doesn't show it. Onwards to the next event now and the busy few months ahead."
Results – ErzbergRodeo Red Bull Hare Scramble 2017
1. Alfredo Gomez (KTM) 2:17:06
2. Graham Jarvis (Husqvarna) +00:03:22
3. Cody Webb (KTM) +00:05:04…
5. Jonny Walker (KTM) +00:10:41