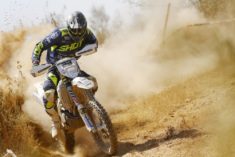 ROCKSTAR ENERGY HUSQVARNA FACTORY RACING'S ENDURO ROOKIE CLAIMS CAREER BEST RESULT ON DAY TWO IN PORTUGAL
Rockstar Energy Husqvarna Factory Racing's Christophe Charlier has finished less than four seconds from the top step of the EnduroGP class podium on day two of the GP of Portugal, round six of the FIM EnduroGP World Championship.
Delivering his best result of the championship to date, the Frenchman battled with EnduroGP championship leader Steve Holcombe throughout the day. Charlier's Enduro 2 class teammate Pascal Rauchenecker also enjoyed a positive GP of Portugal finishing fifth on day one and fourth on day two.
Another dry, hot and dusty EnduroGP event, the GP of Portugal was unquestionably a good one for Christophe Charlier. Coming into the race having missed the GP of Greece with a hand injury, despite severely limited time on his bike ahead of the event he battled his way through the opening day's competition to finish fourth and less than 25 seconds from the podium.
On day two Charlier put in his best ride of the championship so far. Third on the opening motocross test, consistent riding throughout the first lap saw him well placed for a top three result. Further strong rides on all of the remaining six tests saw him enter the event's closing enduro test in contention for a possible win. Falling just short of the top step of the podium he nevertheless completed a highly-impressive weekend-long performance to finish second.
For Mathias Bellino the GP of Portugal ended with two seventh place results. On day one the Frenchman wasn't able to match the speed of the EnduroGP pace setters. On day two the former world champion challenged for a top three result during the opening lap but frustratingly saw his hard work come undone when he crashed heavily on the extreme test on lap two.
Pascal Rauchenecker claimed the Rockstar Energy Husqvarna team's best Enduro 2 class results. Determined to return to the E2 podium, on day one he rode consistently but fell short of a place inside the top three. Day two saw Pascal twice finished second in class on the technical extreme test as he rode to an eventual fourth place result, just 27 seconds from the podium.
Danny McCanney endured a difficult weekend despite a good run through the Friday night Super Test. Banging his knee during the opening extreme test on day one, he finished seventh. Although riding well in the extreme test on day two Danny again placed seventh.
Round seven of the 2017 FIM EnduroGP World Championship takes place at Hawkstone Park, England on September 23-24.
Mathias Bellino: "That's been a really tough weekend. It's been difficult to come back and get up to speed with the other riders, especially with the longer tests. I made a few mistakes on day one and had a couple of crashes. For today I had a really good first lap and was fighting for the podium. Going into the second extreme test I had a nasty crash and it cost me well over a minute. I rode well for the rest of the day, putting in some good times, but I'm a little disappointed to miss out on the podium."
Christophe Charlier: "This was a really difficult GP for me. After breaking my hand, I hadn't had that much time on the bike, so I felt a bit tired, especially going into day two. I was suffering with some pain yesterday and had to take some medication to see me through to the end of the day. Today I took the medication beforehand and I felt stronger all day. To get my third podium is great and I'm really happy with my riding. I think, given more time on the bike, I could have challenged for the win today. It's been a very positive GP."
Pascal Rauchenecker: "It was a good weekend for me. The Super Test on Friday didn't go too well, but I had a consistent day on Saturday. Fifth is a good result, but I was a little disappointed at the time difference between myself and the other riders. I improved my speed on day two but I still want to be closer to the podium. Top five is my goal, so I'm really happy with fourth on day two."
Danny McCanney: "Friday's Super Test was good, I really enjoyed the track and rode well. As soon as I went into the motocross test on Saturday I knew it wasn't my type of ground. I banged my knee in the extreme test and rode the rest of the day sore and a little off the pace. Going into the second day, I was hoping to do better, but still really struggled with the terrain. The extreme test was great, and the course really suited me well. I put in some good times there but it wasn't enough to close on the other riders. I'm really looking forward to Hawkstone now."
Results – 2017 FIM Enduro World Championship, Round 6
Day 1
EnduroGP
1. Nathan Watson (KTM) 1:12:26.83; 2. Matthew Phillips (Sherco) 1:13:50.33; 3. Steve Holcombe (Beta) 1:13:51.49; 4. Loic Larrieu (Yamaha) 1:14:09.32; 5. Christophe Charlier (Husqvarna) 1:14:16.49… 7. Mathias Bellino (Husqvarna) 1:14:58.40
Enduro 2
1. Jamie McCanney (Yamaha) 1:12:43.29; 2. Josep Garcia (KTM) 1:13:06.92; 3. Davide Guarneri (Honda) 1:13:37.28; 4. Eero Remes (TM) 1:13:58.68; 5. Pascal Rauchenecker (Husqvarna) 1:15:01.53… 7. Daniel McCanney (Husqvarna) 1:15:27.82; 8. Henric Stigell (Husqvarna) 1:15:53.39… 10. Thomas Oldrati (Husqvarna) 1:16:15.59
Day 2
EnduroGP
1. Steve Holcombe (Beta) 1:14:26.51; 2. Christophe Charlier (Husqvarna) 1:14:30.24; 3. Matthew Phillips (Sherco) 1:14:40.29; 4. Loic Larrieu (Yamaha) 1:14:45.42; 5. Jaume Betriu (KTM) 1:15:04.54… 7. Matthias Bellino (Husqvarna) 1:16:07.66
Enduro 2
1. Jamie McCanney (Yamaha) 1:13:40.93; 2. Josep Garcia (KTM) 1:13:52.70; 3. Eero Remes (TM) 1:14:38.50; 4. Pascal Rauchenecker (Husqvarna) 1:15:06.26; 5. Manuel Monni (TM) 1:15:55.47; 6. Thomas Oldrati (Husqvarna) 1:16:18.16; 7. Danny McCanney (Husqvarna) 1:16:25.26; 8. Henric Stigell (Husqvarna) 1:16:36.54
Championship Standings (after round 6)
EnduroGP
1. Steve Holcombe (Beta) 259pts; 2. Loic Larrieu (Yamaha) 222; 3. Matthew Phillips (Sherco) 202; 4. Nathan Watson (KTM) 200; 5. Christophe Nambotin (KTM) 180… 11. Antti Hellsten (Husqvarna) 84; 12. Christophe Charlier (Husqvarna) 77; 13. Mathias Bellino (Husqvarna) 81; 14. Ramon Quer Molgo (Husqvarna) 40; 15. Marko Tarkkala (Husqvarna) 38… 24. Mike Brown (Husqvarna) 14
Enduro 2
1. Josep Garcia (KTM) 267pts; 2. Jamie McCanney (Yamaha) 261; 3. Eero Remes (TM) 237; 4. Pascal Rauchenecker (Husqvarna) 204; 5. Daniel McCanney (Husqvarna) 167… 7. Henric Stigell (Husqvarna) 149; 8. Thomas Oldrati (Husqvarna) 145… 32. Oscar Balletti (Husqvarna) 4; 33. Damiano Lullo (Husqvarna) 3; 34. Mikael Miettinen (Husqvarna) 2