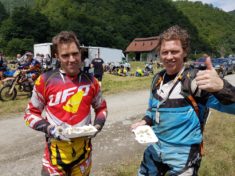 Foto's. 12.15: David Knight houdt het voor gezien: " Insane downhills, I had to get off the bike and slide down. I also hurt my hand and i am a little scared to take the glove off .. . I'll check it later".
Hij heeft CP gemist en slaapt morgen lekker uit denk ik zo. 😎
12.13: Gold mannen druppelen binnen, Jarvis weer/nog eerste. Roman en Bolton in tandem ook gefinished.
Walker keek even later niet blij, heeft wat meegemaakt en misschien hand gebroken…
Rienk Tuinstra nog onderweg in laatste stuk.