Josep Garcia Takes Early Advantage At Hawkstone Park Cross-Country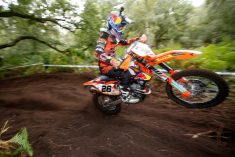 Shrewsbury, Great Britain – 22 September, 2018 — Spain's Josep Garcia (KTM) sets the pace at round six of the World Enduro Super Series to secure the Fast Eddy Sprint Enduro win at the Hawkstone Park Cross-Country in Great Britain.
Putting in a world-class performance, Red Bull KTM Factory Racing's Garcia stamped his authority on Saturday's Sprint Enduro to secure a 35-second margin of victory over teammate Nathan Watson (GB). Ensuring two British riders claimed podium results, Rockstar Energy Husqvarna Factory Racing's Billy Bolt edged out Spaniard Jaume Betriu (KTM) by two seconds for third overall.
Just two weeks after round five in Poland, Great Britain's iconic Motocross circuit Hawkstone Park opened its gates for the sixth stop of WESS. Staged over two days, Saturday's opening day of racing saw the 650 competitors entered stretch their race-legs on the sandy Motocross track and surrounding woodland for some fast and furious Sprint Enduro racing. With event organisers Fast Eddy Racing laying out two spectacular special tests – Motocross and Enduro – riders competed against the clock for a qualifying place in Sunday's Original Fast Eddy Cross-Country.
Eager to show his speed, Garcia wasted no time in getting down to business. Immediately setting the bar high on the Enduro test, he blasted his way to an early 12-second lead over Bolt at the end of the opening test. Continuing his impressive pace, he controlled a lead of almost 29 seconds at the end of the third and final Enduro test over an improving Watson.
Moving on to the Motocross test and Garcia set the fastest time on the opening run. Watson answered back to top test two but with Garcia turning up the heat for the final run he pulled away to end his day as the clear winner.
After a disappointing opening test, Watson quickly found his feet and worked his way up the leaderboard for an eventual runner-up behind Garcia. Proving fast and comfortable on the technical Enduro test, Bolt held strong on the Motocross test to complete the top three. Despite pushing hard on the Motocross tests, Betriu was unable to gain enough ground back on Bolt and had to settle for fourth.
The fight for fifth was a closely fought affair between Taddy Blazusiak (KTM – POL), championship leader Manuel Lettenbichler (KTM – GER) and British wildcard Alex Snow (Honda – GB). With just six seconds separating the trio, Blazusiak took fifth with Lettenbichler sixth and Snow in seventh.
Sunday's racing begins with a Youth and 'Steady Eddy' Cross-Country race in the morning before 250 competitors take on the Original Fast Eddy Cross-Country in the afternoon.
Josep Garcia (KTM – ESP): "I really enjoyed it today. It's good to qualify first for tomorrow's main event and show my speed is good. Conditions were ok — there was a lot of mud on the Motocross test but the Enduro test was almost perfect. I'm back on my KTM 250 four-stroke for this race and it feels really good. I haven't had much chance to ride it so far this season because I used the two-stroke for the Hard Enduro races, so it's nice to be back on the bike I won the world championship on last year. I've waited a while for this race to come around and I'm excited for tomorrow – I will be giving it 100 per cent for the win."
Nathan Watson (KTM – GBR): "I took things steady today – I didn't want to take too many risks as the Sprint Enduro simply determines the start position for tomorrow's Cross-Country. The racing today was really good and it was fun to fight with Josep for the overall win while learning the track and conditions for tomorrow. Sunday is going to be about physical strength and endurance – the strongest rider is going to win. I'm pretty confident in my speed over three hours – I have a lot of experience riding beach races and sandy conditions are quite similar so I'm hoping for the best tomorrow. With the opportunity of a home win up for grabs I'll be giving it my all."
Manuel Lettenbichler (KTM – GER): "I had a good ride today without any big mistakes. I did manage to hit a tree but the rest was actually pretty good! It's rough out there, so it's going to be a hard race tomorrow. Two-and-a-half hours on a track like this is going to be a real challenge and very physical. I'm excited for it and hopefully I can keep Billy behind me to increase my lead in the championship."
Results – Hawkstone Park Cross-Country, Day 1
Fast Eddy Sprint Enduro
1. Josep Garcia (KTM – ESP) 26:35.130; 2. Nathan Watson (KTM – GB) 27:10.418; 3. Billy Bolt (Husqvarna – GB) 27:43.970; 4. Jaume Betriu (KTM – ESP); 5. Taddy Blazusiak (KTM – POL) 27:54.442; 6. Manuel Lettenbichler (KTM – GER) 27:55.715; 7. Alex Snow (Honda – GB); 8. Jed Etchells (Sherco – GB) 28:40.370; 9. Daryl Bolter (Husqvarna – GB) 28:52.215; 10. Paul Bolton (KTM – GB) 29:14.262…
Hawkstone Park Cross-Country Schedule
Sunday, 23 September
Youth Race: 09.00 – 10.00hrs
Steady Eddy Race: 10.30 – 12.30hrs
Original Fast Eddy: 13.00 – 15.30hrs
Hawkstone Park Cross-Country Event Information
Website: www.fasteddyracing.com
Facebook: Fast Eddy Racing
Photo credit: Future7Media
Website: iRideWESS.com
Red Bull TV: redbull.tv/WESS
Instagram: instagram.com/iRideWESS
Facebook: facebook.com/iRideWESS
Twitter: twitter.com/iRideWESS
WORLD ENDURO SUPER SERIES – 2018 SCHEDULE
Rnd 1. Extreme XL Lagares (Portugal) May 11-13
Rnd 2. Erzbergrodeo (Austria) May 31-June 3
Rnd 3. Trèfle Lozérien AMV (France) June 8-10
Rnd 4. Red Bull Romaniacs (Romania) July 24-28
Rnd 5. Red Bull 111 Megawatt (Poland) September 8-9
Rnd 6. Hawkstone Park Cross-Country (England) September 22-23
Rnd 7. Gotland Grand National (Sweden) October 26-27
Rnd 8. Red Bull Knock Out (The Netherlands) November 10