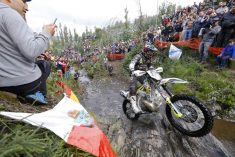 Wels, Austria – April 30, 2019 — Now 10 days out, it's time to go racing as the World Enduro Super Series fires into life for the much-anticipated 2019 season. With eight rounds scheduled across seven months, the stage is set for another year of world-class Enduro racing, as the sport's elite riders go head-to-head in the battle to become the ULTIMATE ENDURO CHAMPION.
Building on its successful debut season during 2018, the multi-discipline championship will continue to challenge and test the world's best Enduro riders across a wide range of racing formats, while also encouraging a wealth of amateur competitors to take part. Refining its parameters for 2019, WESS will feature Classic Enduro, Hard Enduro and Cross-Country racing, while mixing a variety of iconic events and new venues together to create the perfect blend of Enduro racing.
A Portuguese Kick Start
For 2019, it's Portugal that once again has the honour of hosting the opening round with the Toyota Porto Extreme XL Lagares, on May 10-12. Now in its 15th edition, the three-day race showcases Superenduro, Urban and Hard Enduro in one weekend, encompassing everything WESS stands for.
Rolling French countryside awaits competitors at round 2
From Portugal riders will have little time to rest as they head directly to France and the majestic Trèfle Lozérien AMV the following weekend. A Classic Enduro that embodies the traditional spirit of Enduro with its format of timed special test racing, the idyllic French countryside surrounding Mende are steeped in motorcycle history. French riders have dominated the Trèfle Lozérien AMV and will aim to ensure that 32-year win streak remains unbroken.
Returning to Hard Enduro, WESS leaves behind the rolling, grassy fields of France for the formidable Erzbergrodeo Red Bull Hare Scramble in Austria. Renowned as the world's toughest single-day Enduro, the Erzbergrodeo's Iron Giant will see over 1,500 competitors first compete across two days of high-speed qualification for one of the 500 places on offer for the main event. Broadcast live on Red Bull TV, riders will do battle on one of the toughest Enduro courses around.
Austria's Erzbergrodeo Red Bull Hare Scramble will be a challenge for all
New for 2019, Spain's Hixpania Hard Enduro joins the fold. Now entering its fourth edition, the event has become the country's must-do Hard Enduro race. Held over three days, it too embodies the spirit of WESS with its multi-discipline Urban, Cross-Country and Hard Enduro elements. Already a favourite with some of the sport's top competitors, its inclusion in WESS for 2019 ensures the stakes will be raised this time around.
The Romanian Wilderness Beckons
Spectacularly kicking off the second half of the series, WESS seeks out the wild mountainous wilderness of Romania's Red Bull Romaniacs for round five. Considered the world's toughest Hard Enduro Rallye, the five-day event annually lives up to its fearsome reputation. Catering to all ability levels, the race sees a strong entry of competitors from 35 nations compete.
From Romania to the United Kingdom, the Hawkstone Park Cross-Country at the famous Shropshire circuit offers traditional Enduro riders an opportunity to flaunt their speed. After qualification on Saturday, riders will take to the start line on Sunday for a rough and physical two-hour 30-minute Cross-Country battle across unrelenting sandy bumps, tight and technical woodland, combined with the fast and flowing Motocross circuit.
Red Bull Romaniacs is set to attract riders from 35 nations
A Return To Spain For Classic Enduro
Keeping the speeds high, the penultimate round of the 2019 series is a new venue for all on the first weekend of October. Returning to Spain – but this time for Classic Enduro – it's the all-new BR2 Enduro Solsona. Located just over 100 kilometres north of Barcelona, the region is synonymous with Enduro since the early 1970s, hosting numerous World Enduro Championship rounds, most recently in 2014. Another golden opportunity for Classic Enduro specialists to gain ground on their Hard Enduro rivals as the season reaches its climax, the BR2 Enduro Solsona could prove a pivotal turning point in the championship fight.
Ready to sign off the 2019 WESS in style is GetzenRodeo. Another new addition to the calendar, the single-day GetzenRodeo is Germany's leading Hard Enduro race and will prove a fitting finale to this year's championship fight. Attracting over 12,000 spectators in 2018, the private woodland transforms into the ultimate playground for the world's best Enduro riders to compete on. For 2019, the race will also be broadcast live on Red Bull TV, ensuring Enduro fans won't miss a moment in the crowning of this year's ULTIMATE ENDURO CHAMPION.
Competitors go head-to-head at Hawkstone Park Cross-Country
Global Enduro Coverage
Ensuring maximum visibility of the World Enduro Super Series, Red Bull Media House will act as "Exclusive Media Partner" to capture the best video content during each round while also producing a 26-minute show exclusive to Red Bull TV post event. Acting as "Official Communication Partner" Future7Media will take care of all media communications for WESS.
The eight-round World Enduro Super Series begins with Portugal's Toyota Porto Extreme XL Lagares on May 10-12.
All You Need To Know About The 2019 Season
Photo credit: Future7Media
Website: iRideWESS.com
Red Bull TV: redbull.tv/WESS
Instagram: instagram.com/iRideWESS
Facebook: facebook.com/iRideWESS
Twitter: twitter.com/iRideWESS
WORLD ENDURO SUPER SERIES – 2019 SCHEDULE
Round 1: Toyota Porto Extreme XL Lagares (Portugal) May 10-12
Round 2: Trèfle Lozérien AMV (France) May 17-19
Round 3: Erzbergrodeo Red Bull Hare Scramble (Austria) May 30-June 2
Round 4: Hixpania Hard Enduro (Spain) June 21-23
Round 5: Red Bull Romaniacs (Romania) July 30-August 4
Round 6: Hawkstone Park Cross Country (United Kingdom) September 21-22
Round 7: BR2 Enduro Solsona (Spain) October 5-6
Round 8: GetzenRodeo (Germany) November 2