WESS Heads To Portugal For 2019 Championship Opener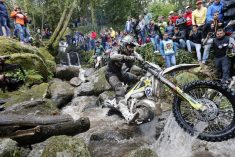 Wels, Austria – May 9, 2019 — Set to start the 2019 World Enduro Super Series in spectacular style, Portugal's Toyota Porto Extreme XL Lagares will see the battle to become this year's ULTIMATE ENDURO CHAMPION begin.
Covering eight rounds of exciting mixed discipline Enduro racing across seven months, WESS will bring together the sport's best riders as they fight it out in Classic Enduro, Hard Enduro and Cross-Country racing. Like in 2018, the Toyota Porto Extreme XL Lagares will kick things off with Superenduro, Urban and Hard Enduro action across three days in northern Portugal.
Expanding on 2018, the 15th edition of the Portugal's most-important Hard Enduro race will see almost 300 riders compete across five categories that will include 54 Pro competitors.
Bolt Starts As Defending Champion
As the defending WESS champion, Rockstar Energy Husqvarna Factory Racing's Billy Bolt (GB) will start as the rider to beat in 2019. Bolt won the event last year and will look to rekindle all of that winning form this time round. However, an off-season knee injury has sidelined the likeable British rider for the majority of the winter meaning round one will mark his first return to competitive action since that championship-winning ride last November.
Ending the 2018 series as runner-up, Germany's Manuel Lettenbichler (KTM) was a revelation last year with the privateer rider regularly challenging the leading factory-supported riders for top honours. Third overall in Extreme XL Lagares 12 months ago, the KTM rider is fired up for victory this time around.
Red Bull KTM Factory Racing's Jonny Walker (GB) finished second in Portugal last year before going on to lead the majority of the series until a season-ending crash in September. Just recently crowned the British Extreme Enduro Champion shows he is back to his best.
Placing fourth overall in Extreme XL Lagares in 2018, Red Bull KTM Factory Racing's Taddy Blazusiak (POL) delivered arguably one of the day's standout performances. From a late starting position, the Polish rider overtook almost 40 riders on his way to the front of the field. Aiming for an easier time of things this year, Blazusiak could prove a serious threat for the top step of the podium.
Gomez Aims To Add To Win Tally
Tied on three wins with Graham Jarvis (Husqvarna – GB), Alfredo Gomez (ESP) has claimed the most victories in Portugal's toughest Hard Enduro. Missing the event in 2018 due to injury, the Rockstar Energy Husqvarna Factory Racing rider returns in 2019 eager to increase his win tally. Jarvis – fifth in 2018 – is a rider never to be counted out when the going gets tough. His vast experience around the challenging Lagares mountainside is not in question and he will no doubt figure at the sharp end of the results when it matters most.
As the 2017 winner of the event, South Africa's Wade Young will look to improve on his 2018 result of seventh. The Sherco Factory Racing rider ran into trouble on the final lap after battling for a top-three result. Twice a race winner in WESS last year, Young will be eager to start his campaign on a strong footing.
TTR Officine Rigamonti Look To Impress
New to WESS for 2019, TTR Officine Rigamonti will field three riders – Pol Tarres (ESP), Enrico Rinaldi (ITA) and Alessandro Azzalini (ITA). Tarres has shown previous form in the Portuguese race with fourth in 2017 and will look to deliver a memorable debut result for the team in WESS. Eurotek KTM will also be another privateer outfit aiming to mix it among the factory teams with Travis Teasdale (RSA) and Will Hoare (GB). Teasdale – ninth in 2018 – will have hopes of finishing inside the top five this weekend.
With a wealth of talent taking to the start, additional names to watch out for include the Classic Enduro talents of Nathan Watson (KTM – GB) and Josep Garcia (KTM – ESP). Watson, who ended the 2018 season in third overall, will be eager for a strong ride this weekend, while Garcia – 13th in 2018 – has the potential to break into the top 10 at the very least.
Adding in riders like Mario Roman (Sherco – ESP), Lars Enöckl (Husqvarna – AUT), Jonathan Richardson (Husqvarna – GB), Diogo Vieira (Yamaha – POR), Blake Gutzeit (Husqvarna – RSA), David Cyprian (KTM – CZ) and American Quinn Wentzel (Husqvarna) ensures a place inside the top 20 will be hard fought for.
Staged over three days, racing begins on Friday evening May 10 with Superenduro action in Quintandona, Lagares. On Saturday things get distinctively Urban when world heritage city Porto opens its narrow cobbled streets to the world's best Enduro riders in the Ribeira do Porto district. Sunday is all about Hard Enduro as competitors tackle the slippery, rocky riverbeds and Penafiel forestry of Lagares for one of the world's most spectacular and demanding races. Starting and finishing in Quintandona, the Pro class will complete two laps of the course, with the remaining categories needing to complete one.
The eight-round 2019 World Enduro Super Series begins with Portugal's Toyota Porto Extreme XL Lagares on May 10-12.
Toyota Porto Extreme XL Lagares Fast Facts
• Alfredo Gomez and Graham Jarvis are tied on the most wins with three apiece
• Finishing 15th, Diogo Vieira was the best placed Portuguese rider in 2018
• 296 competitors will start round one including 54 Pro class riders
• The hotly contested Pro class features riders from 15 nations
• 2018 saw round one winner Billy Bolt go on to become the series' ULTIMATE ENDURO CHAMPION
2019 Toyota Porto Extreme XL Lagares Schedule
May 10: Endurocross — 09.00-14.00hrs / 16.00-23.00hrs
May 11: Porto Prologue — 14.00-19.00hrs
May 12: Main Event — 11.00-18.30hrs
2018 Extreme XL Lagares Podium
1. Billy Bolt (Husqvarna – GB)
2. Jonny Walker (KTM – GB)
3. Manuel Lettenbichler (KTM – GER)
Extreme XL Lagares Past Winners
2018 – Billy Bolt (Husqvarna)
2017 – Wade Young (Sherco)
2016 – Alfredo Gomez (KTM)
2015 – Alfredo Gomez (Husqvarna)
2014 – Alfredo Gomez (Husqvarna)
2013 – Graham Jarvis (Husaberg)
2012 – Graham Jarvis (Husaberg)
2011 – Dougie Lampkin (Gas Gas)
2010 – Graham Jarvis (Husaberg)