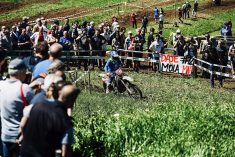 The FIM and EnduroGP present "The Unbroken Ride", a five episode series of videos, which narrates the world of Enduro.
Watch "The Unbroken Ride" Episode 1 here: https://youtu.be/B9WcpdA2kco 
Professional riders, amateurs, volunteers, and the moto clubs are only some of the extraordinary characters that make this legendary discipline, and its FIM World Championship, so unique. The videos give a voice to all of Enduro's main figures, offering not only unique behind the scenes footage, but also depicting these heroes' sacrifices and unquestionable passion.
Fabio Muner, FIM Marketing & Communication Director, adds that this is only one of the very first steps towards a real change for EnduroGP and the entire discipline.
"The Fédération Internationale de Motocyclisme cares about Enduro very much. This video wants to portray a big family with decades of history, that is made up of great champions and passionate amateurs, National Federations, volunteers, moto clubs and teams. It represents one of the steps of the Enduro relaunch. This includes not only the World Championships, but the discipline as a whole, creating an interesting communications platform for all our stakeholders."
For years John Collins, Director of CEN, has been an important reference for FIM's organisation of the Enduro discipline. He adds:
"We are convinced that the passion our fans demonstrate at the World Championships' races can be shared with a wider and more varied audience. We will work hard all together in order to attract even more enthusiasts not only to the races, but also actually to practice Enduro. This way we will honour all those who make every single aspect of this wonderful sport possible."
After the first signs of a real upswing, Bastien Blanchard, CEO of ABC Communication, is confident that the future of the Championships will be very exciting:
"They were challenging years, but, together, we reacted: a change of gear was needed and these videos highlight just how fascinating the FIM Enduro World Championship is, and how much it represents the heart of this discipline."
The first episode of "The Unbroken Ride" is dedicated to a rider who managed to dominate the hardest race of the season, the Italian GP – Valli Bergamasche, despite a shoulder injury.
Alex Salvini goes beyond his own achievements and tells us what Enduro means to him, explaining the essence of the sport and his passion for it.