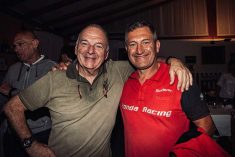 Desio, a few kilometres from Milan, Honda Red Moto headquarters.
Tullio PELLEGRINELLI was able to transform his passion for off-road into a job. An exceptional rider, he won two Enduro World Championships and an incredible three Six Days, an absolute record. He then managed to help other great riders, the unforgotten Mike AHOLA and Alex SALVINI, win five and one World Championships respectively.
Today, Tullio is Sports Director of the Factory Honda World Red Moto Team and he is also in charge of the homologation for all Red Moto motorcycles distributed in Europe.
His job is to optimise the riders' performance. He supports them in training sessions in order to improve their riding technique and develop their bikes. He works primarily with the Team's official riders, Thomas OLDRATI and Christophe CHARLIER, but also with those who ride a Honda Red Moto and are supported by the company, like Alex SALVINI, Davide GUARNERI, and Davide SORECA.
Tullio has been involved with racing since 1981. "In the beginning it was all about passion. My first competitions were very hard, you know, and, for example, during my first season I only had one set of tyres at my disposal. From the second year onwards, they realised that I was doing quite well and I had a bit more support, but, nonetheless, the first four years were very difficult."
Thanks to his stubbornness and to his love for this sport, Tullio became the Tullio PELLEGRINELLI whom all Enduro fans know today.
Enduro has changed a lot for the riders over the last thirty years.
"Once upon a time it was almost impossible to go to a competition and know what to expect. One did not know the route at all. Maybe the special tests were less challenging than today, but the time checks were much stricter. I remember how the first lap became a sort of special test because we were all afraid of some surprise check." He laughs.
He tells us about how riders used to go out by themselves at 7am. They refuelled, and returned in the evening. It was normal to know results only the next morning.
They heyday of Tullio's career was during the 1990s. "Epic years. Every competition was an adventure which started with the very first kilometre of the journey. We riders all helped each other. Once, we left for a competition in Portugal and we knew that one truck had broken its axle shaft at least once, so we organised ourselves in order to help each other along the journey in case it was necessary."
He is still friends with his former rivals and he greatly enjoys running into them at competitions today: it's like a step back in time.
Tullio still very much has the mentality of an Enduro rider: anything can happen. You can fall, your bike can break, you can injure yourself. If you start a race, you have to finish it. "You never know what may happen." It is a sport which demands not only physique, but also a lot of heart.
Just like that one time during the Six Days, when Tullio felt like he had to contribute in order to avoid Italy's disqualification despite a broken shoulder. He did not only do his part, but Italy even won that edition. "When I watched SALVINI and FREEMAN at the Valli, and considered the bad physical conditions they were in, I thought that we riders will never change."
"Always do the possible, never give up."
Both, the rider and bike, compete.
The relationship between a professional rider and his motorcycle is so close that sometimes it is almost unthinkable to make even small adjustments. Whether it's the suspensions or the power commander, the rider needs to be sure and trust their bike blindly.
The rider's head decides. "We might be working perfectly well, we might be going in the right direction, but sometimes one bad result is enough for all technical modifications to be put aside." Although this industry is unique, it is not an exact science and, thankfully, the human aspect still counts the most.
When a motorbike stays the same from one season to the next, some adjustments are still made in order to improve small details. It is very unlikely, however, that the vehicle is completely revolutionised.
It is different when the bike is substituted. Then, tests are done during the winter in order to understand the new bike and get used to it for the start of the new season. This is important not only for riding the bike, but also for the mechanical aspect.
Once the season has begun, very specific, tiny things may be altered from race to race, but the general setup of the bike does not change.
The greatest thing that Enduro demands from the rider and the bike is adaptability: rocks, sand, grass, gravel, trunks, earth… both, rider and bike, need to be versatile.
The perfect setting is a sort of compromise which enables the bike to be fast in all conditions. The motorcycles will never be designed with a specific race or special test in mind, but, rather, they will always have to adapt themselves to all possible conditions.
"We only changed the bike's setting completely for competitions on sand. I remember an Italian Championships in Lignano Sabbiadoro, for example, where the bike had to be much more rigid than normally."
Today's bikes are incredibly fast and, strangely, this highlights a single rider's ability. "The rider needs to know how to control all that power; it's not so much about how much you step on the gas, but, rather, it's about knowing how to step on the gas, and where to steer."
The real evolution of motorcycles started in the 1990s. Before, "they were rustic. I remember drum brakes, you couldn't even really speak about braking, and the suspensions had very short travel. On these bikes, the best riders were those who managed to avoid potholes."
Great change has taken place since then. According to Tullio, tiny developments may be noticeable from one year to the next, but looking at bikes from five years ago the differences become enormous.
The mechanism is so delicate that the whole performance can be endangered by very little, for example a negative result or a small, seemingly insignificant, detail.
The routes, however, have not changed at all. Today's bikes cannot overcome obstacles which were not tackled in the 1990s. They can only do so faster. "Maybe in the past the routes were even more challenging, as the special tests were definitely different. It is good that we have the Extreme now, which in a way is similar to Trial. If we then think of the bikes used forty-five years ago, it is a completely different thing altogether: they were directly derived from street motorcycles, so the routes of course had to be less complex."
However, the bike has this central importance not only for the professionals.
"A functioning motorcycle is the most important thing also for an amateur. I come across bikes with faulty clutches, with really low brake pedals which are almost impossible to use, with long chains, with dirty filters… sometimes I try them, but I just don't enjoy myself and I can't even do what I want to do."
Even amateurs need to pay attention to a few small details in preparing their bike and, according to Tullio, these should be repeated at least every four or five outings.
Tullio is not only a legend of Enduro and an important Sports Director today, but he remains a great fan.
He goes riding with his friends and enjoys nature. He respects the environment and the people he encounters along the trails.
"During the summer the mountains are very crowded and I don't think it's right to go out with your motorbike then. There are, however, certain months during the year when trails risk closing.
Today's bikes have minimal emissions, they are less noisy, and could therefore help in maintaining the trails, if motorcyclists stay on them and use them properly.
It is clear that whoever practices this sport needs to be respectful to what surrounds us. However, I think that the future of Enduro will be bikes which adapt themselves not only to different types of riders, but also to different uses."
The words of a World Champion.