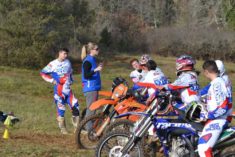 The FIM Enduro Commission, with the support of the French Federation (FFM), is organising a unique training camp for women, youth and junior Enduro riders from 12 to 15 September 2016 in Najac (France). 
FIM Enduro Commission Director Jean-Guillaume Meiller welcomes this initiative: "This training camp is an excellent opportunity for youngsters to prepare for the ISDE that will gather together the Enduro community for a week of exciting competition in October. The aim is to encourage more women and young people to practise and stay with Enduro, and the excellent facilities at the centre at Najac will certainly be a motivating factor for all participants."
PERFECT TIMING AND LOCATION
The training camp will take place just after the last round of the 2016 FIM EnduroGP and Junior WC and FIM Women & Youth Enduro World Cup Series and just before the 2016 FIM ISDE, starting on Monday 12 September at 18:00 and ending on Thursday 15 September at 16:00. Participants will have the opportunity to review their individual Enduro performances and train for the ISDE.
Najac is a perfect location, less than an hour from Cahors – easy to reach and on the route to the ISDE.
THE INSTRUCTORS 
The camp will be supervised by professional and experienced instructors including Mr Pierre-Marie Castella, French Cross-Country Rallies Champion and Enduro Vice-champion, now an FFM Enduro Trainer and Talent Scout, also in charge of the French Women's Enduro Team (runners up at the 2015 ISDE) and Ms Stéphanie Bouisson, former Women's Enduro World Cup rider and professional trainer. They will share their experience, best tips and techniques with the riders and offer them top-level training.
FACILITY 
In collaboration with the Lycée François Marty, French Sporting Excellence Site, and the Rouergat Moto-Club, the participants will have access to ideal infrastructures – including an Enduro Track, Motocross Track and outdoor activities centre in a great environment. Reasonably priced accommodation is available on the camp site: group accommodation with meals included, or camping.
OPTIMAL PROGRAMME
Monday 12 September at 18:00 – welcome and registration
Tuesday 13 September – Enduro and Cross tests
Wednesday 14 September morning: special sports activity (VTT and/or Kayak) / afternoon training at the "Laguepie" Motocross Track
Thursday 15 September until 16:00 – Extreme Enduro training next to the river
The camp will include theoretical/technical sessions: riding techniques, competition tips, motorcycle settings and adjustments, technical aspects, physical preparation, nutrition/hydration, FIM Sporting and Technical rules and regulations…
IN A NUTSHELL 
• 12-15 September – Najac (France)
• Top level training camp with pro instructors
• Low-priced entry fee
• Unique experience
HOW TO PARTICIPATE 
For more information and to register please click HERE